The ACCA syllabus (Association of Chartered Certified Accountants) consists of three stages:
1- The Applied knowledge stage which contains three exams; Business and Technology (BT), Management Accounting (MA), Financial Accounting (FA). 2- The Applied Skills stage which contains six exams; Corporate and Business Law (LW), Performance Management (PM), Taxation (TX), Financial Reporting (FR), Audit and Assurance (AA), Financial Management (FM). 3- The Strategic Professional stage which contains six exams;
However, two are essentials; Strategic Business Leader (SBL), Strategic Business Reporting (SBR) and four are options; Advanced Financial Management (AFM), Advanced Performance Management (APM), Advanced Taxation (ATX), Advanced Audit and Assurance (AAA).
Students must also complete the ACCA Ethics and Professional Skills stage. Depending on your current qualifications, you may be exempt from some ACCA exams. You can find out more information below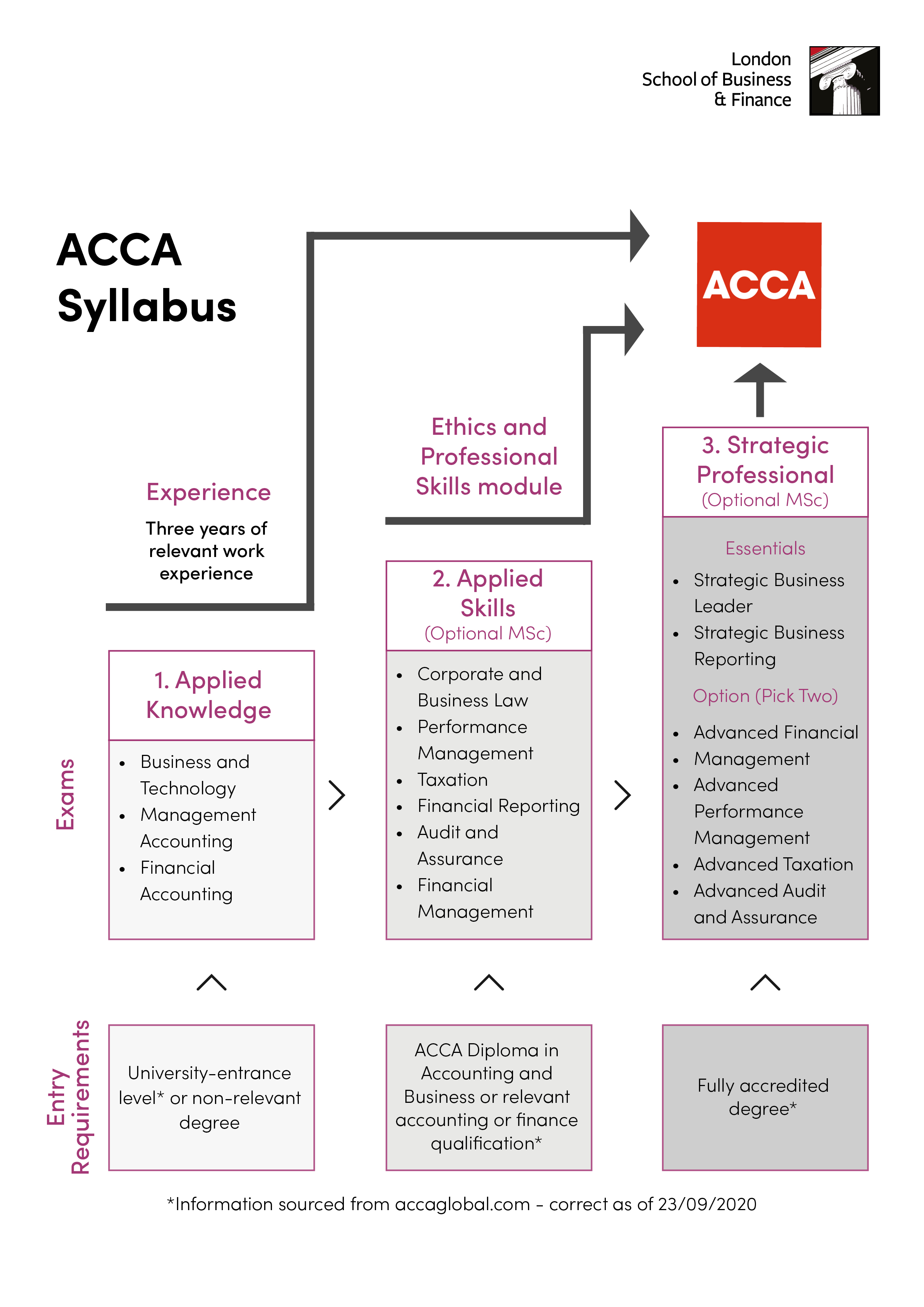 The ACCA syllabus consists of 13 exams divided into 3 levels:
Applied Knowledge - 3 exams
Applied Skills – 6 exams
Strategic Professional (Essentials and Options) – 2 Essentials exams and 2 Options exams
Maximum of two exams to be taken in one sitting.
Exams within a module may be sat in any order but ACCA recommends that they should be sat in numerical order.
Exams must be taken in modular order for the ACCA Qualification; however you can attempt the exams within each module in any order.  If you wish to enter to sit exams in the next module, you must also enter for all outstanding exams in your current module.  
The two Essentials ACCA exams do not have to be sat together.
Students have 10 years to pass all the examinations. Students will have 7 years to pass the exams at Professional level (SBL and SBR and two of the options exams AFM - AAA). The 7-year time limit starts when a student passes their first Professional level exam.
The pass mark for all examinations is 50%.
In addition to the above 13 exams, students are required to study and sit an online module in Professional Ethics. It is recommended that this is studied at the same time as SBL.
Practical experience required.
Student comments
"The best thing about studying here is the flexibility of timing. You can just sit at home enjoying the classes which is completely different". Professional Training
"Tutors are great and really professional, they know a lot of the subject but as well how to pass the exam. I already recommended LSBF to my friends" Professional Training
"LSBF was really good because of the comprehensive tuition which they offer" Professional Training
More student stories