Business School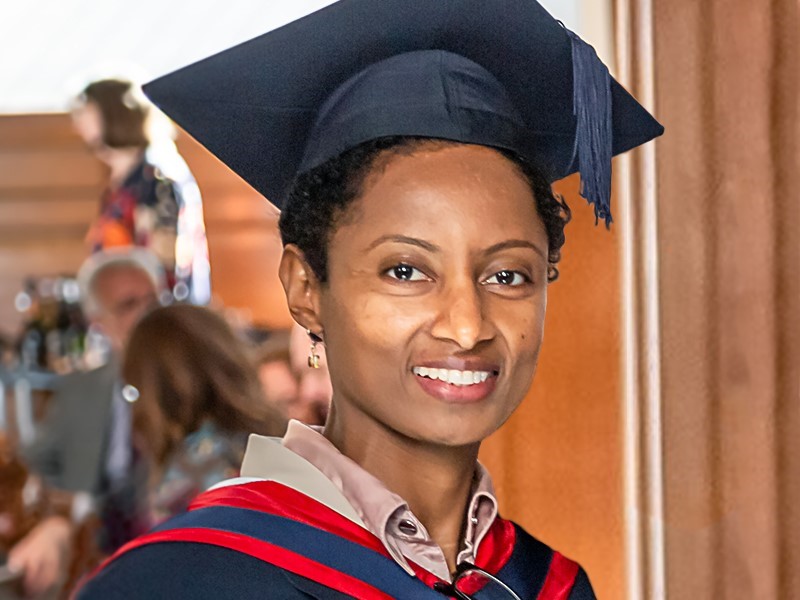 Purity Laird,
Kenya/UK
Purity found that the topics covered during her studies coincided with the issues she was working on in her professional role, which she says made the learning experience more exciting and applicable. In fact, she says she found her evening studies to be enjoyable even after a long day at the office. During her studies, Purity had the opportunity to research and complete her dissertation on the unique subject of natural capital accounting, or monetising the effects of climate change. This kind of specialised research allowed Purity to align her dissertation directly to her future career goals. "That was more of an interesting path for me to take and to challenge myself." Though she could independently apply much of her existing knowledge to her studies, Purity said the available online support was incredibly helpful. Receiving this support, as well as having a clear picture of her own academic goals, were key to Purity's success on the programme. "I think you have to know in yourself what you want to get out of it. So if you already know what goals you have and what infrastructure you need, laying that out for yourself and making it clear to yourself then makes it really easy."
More student testimonials
Emile Albert Lloyds, United Kingdom
Emile has a high-flying career in the financial markets. After finishing his MBA in International Management at LSBF in 2010, he secured a job as an Investment Operations and Income Consultant a JP Morgan, one of the world's largest financial companies.
Piers Etson, UK
"I found the course extremely beneficial and the mentors would help me every step of the way."
Lyazzat Zhussupova, Khazakstan
"There were a lot of lectures and modules that were useful for me. In my current job I still use this knowledge and new skills."
Ana Pavlova, Bulgaria
LSBF has the most amazing teachers. They have strong industry experience in the specific field they are teaching which is really helpful.