LSBF Great Minds: "For global clients you need global capabilities", says Deloitte's former global chairman Steve Almond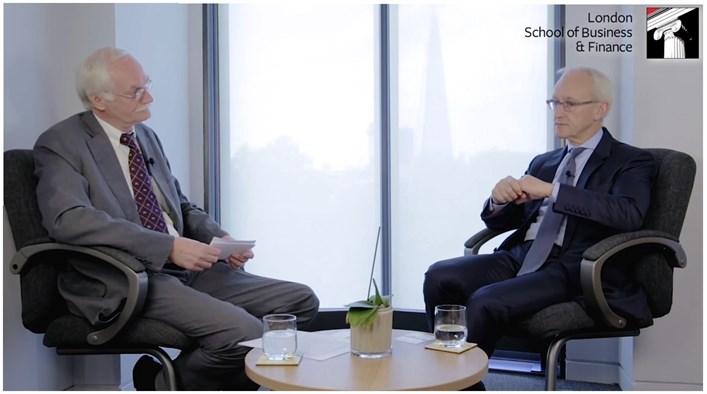 London, 12 April 2017 - As former Global Chairman at Deloitte, the largest professional services network, Steve Almond has gained considerable experience in the world of financial services.
Between 2011 and 2015, Almond led Deloitte: a "Big Four" accounting firm which provides audit, tax, consulting and advisory services for companies around the globe. During those four years he developed the ability to look at the industry from the perspectives of clients, employers, and employees.
In the Great Minds Series, he shared his insights on innovation and trends in professional financial services with Professor Maurits Van Rooijen, Rector of London School of Business and Finance (LSBF).
He also discussed how to develop the necessary skills for success in this sector and the importance of leadership and values. He gave an accurate picture of a very demanding sector which now expects high quality and consistency in financial services, no matter the size and location of the business.
"The audit marketing is certainly more fluid and more challenging, but also very exciting. The response is to go deeper into analytical skills and new technologies, finding new ways to do things as well as new things to do," explains Almond, who sees a need for the whole industry to move from integrating reporting to integrated thinking. "It's about providing a mechanism to help a company to the story of how they create net value over a period of time."
New approaches and ways of thinking require a workforce equipped to deliver on these terms, overcoming the skills shortage. A survey conducted by Deloitte showed how most employees felt that the skills they acquired in their academic career were not used in their professional roles, and what they had learnt didn't seem to match the requirements of the job.
Looking beyond the results of the survey, Almond highlighted a possible new approach for financial professional education which happens to be close to LSBF's teaching model.
"I think talent and skills are a shared issue, and a shared opportunity, for educator and employers," he said. "Higher education should build bilateral relationships with employers to gain a deep understanding and work together to ensure the students are best prepared."
Professor Van Rooijen was interested in the fact that a career in auditing is not just about numbers, and picked Almond's mind on the importance of values and leadership.
"It can't be all about the profit: you have to do something that matters beyond the business purpose and create a sense of teamwork," Almond said, looking at his own experiences as a chairman. "It's difficult to be both a leader and a manager. I try to lead by example, from the front. It's fine to push people, as long as there is a great support system for them to develop."
The full interview with Steve Almond will be available on the LSBF website over the coming weeks.
Great Minds Series
As well as offering programmes dedicated to fostering leadership skills, LSBF also endeavours to provide students with insight and inspiration through a number of innovative resources.
One of these initiatives is the LSBF Great Minds Series: a collection of video interviews with leading business and political leaders promoting debate on education, employability, entrepreneurship and the economy.
The video series started in 2011 with a conversation with former British Prime Minister Tony Blair, followed by an interview with former Education Secretary Lord Kenneth Baker. In 2012, entrepreneur Sir Richard Branson, founder and chairman of the Virgin Group said that universities worldwide should become hubs to boost entrepreneurship and inspire self-starters to develop their own businesses.
In 2014, LSBF spoke to Will Butler-Adams from Brompton Bicycle, Guy Hayward-Cole from Nomura Bank International, with former British Prime Minister Sir John Major, entrepreneur and investor Deborah Meaden, Google UK sales director Kevin Mathers and BBC Worldwide CEO Tim Davie.
In 2015 LSBF hosted interviews with Andrew Miller, CEO of Guardian Media Group; Jill McDonald, CEO of McDonald's UK; and Amy McPherson, CEO of Marriott Hotels Europe.
---
View other sections in Press & Media