Great Minds Series: LSBF interviews Jill McDonald, CEO of McDonald's UK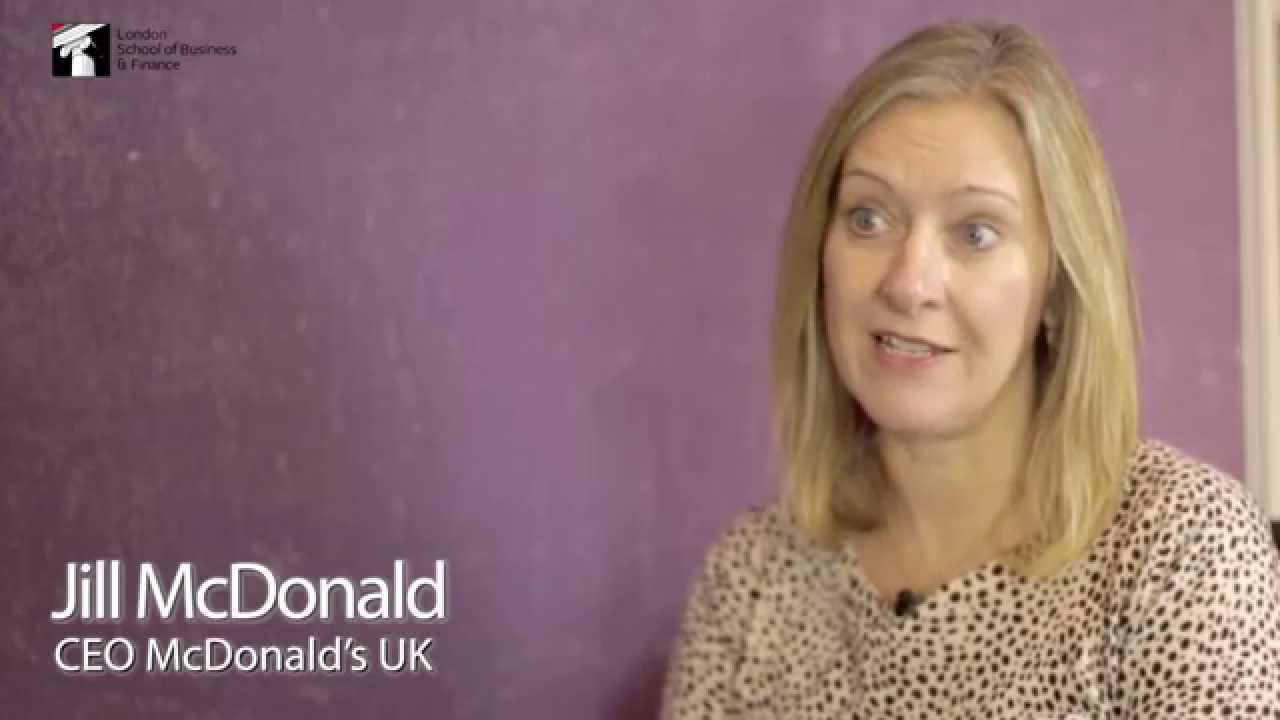 In 2010, Jill McDonald was appointed CEO of McDonald's UK. Since then, the brand has continued to see a growth in sales and profitability and, more importantly, an increase in trust of the brand and its products. In an exclusive interview with LSBF, Ms McDonald discussed some of the challenges that have faced the world's biggest restaurant brand in recent years.
"We have to work hard as people become more and more interested in food; what's in it, where it comes from," she told Nadim Choudhury, Head of Careers Services at LSBF. "We've worked very hard to reassure our customers about the quality of our food. That has been something we've been focused on."
McDonald's – the world's sixth most valuable brand, according to Forbes 2014 – has been in the UK since November 1974. With over 1200 restaurants across the country, McDonald's UK employs over 100,000 people and serves, on average, three million customers a day. Serving over 80% of British families at least once per year, McDonald's has added an estimated £40 billion to the UK economy since it first opened here.
The company is quick to innovate: McDonald's invented the drive-thru and was the first restaurant chain to offer free Wi-Fi to customers. Ms McDonald also discussed the importance of fast-following. "What we tend to do is spot trends and then democratise them. An example would be cappuccinos and lattes – we saw these were growing as a trend and we thought there was an opportunity to [provide] great tasting, ethical, good quality coffee but at exceptional prices, more conveniently than some of our competitors."
Using technology as a marketing tool is also incredibly important for the company. Ms McDonald described it as key, in terms of engagement with different consumer groups. Last year they ran a competition called 'My Burger'. "We asked our customers to create what they thought would be the very best McDonald's burger. We had a judging panel that looked at the best entries and we had voting to ensure that those weren't just our views, it was the views of our customers as well. We've actually had five of those [burgers] sold in our restaurants."
Ms McDonald joined McDonald's in 2006 as Senior Vice President, Chief Marketing Officer. She also spoke of how the company invests in its staff and provides career progression opportunities to employees at all levels: "We've had to work hard at helping people understand that jobs at McDonald's are good quality jobs with prospects. Over half of my executive team started off working in restaurants."
The firm works with several educational institutions to deliver its training ranging from apprenticeships to foundation degree courses for their employees. "It's important for businesses to reach out but also for universities to reach into business and really understand what skills and capabilities those businesses are looking for."
Before departing, Ms McDonald took time to offer advice to students looking to enter the food and drink sector. "Get some practical experience that will help you place in context some of the learning you've had and apply it in the real world. That gives you a real start in being able to decide what you want to do."
LSBF Great Minds Series
LSBF Great Minds Series is a collection of video interviews with leading business and political leaders aimed at inspiring students and promoting debate on education, employability, entrepreneurship, and the economy.
The video series started in 2011 with a conversation with former British Prime Minister Tony Blair, followed by an interview with former Education Secretary Lord Kenneth Baker. In 2012, entrepreneur Sir Richard Branson, founder and chairman of the Virgin Group said that universities worldwide should become hubs to boost entrepreneurship and inspire self-starters to develop their own businesses. In 2014, LSBF spoke to Will Butler-Adams from Brompton Bicycle, Guy Hayward-Cole from Nomura Bank International, with former British Prime Minister Sir John Major, entrepreneur and investor Deborah Meaden, Google UK sales director Kevin Mathers and BBC Worldwide CEO Tim Davie.
---
View other sections in Press & Media