LSBF Great Minds Live: consumer journey is vital for advertising, says MediaCom UK MD Claudine Collins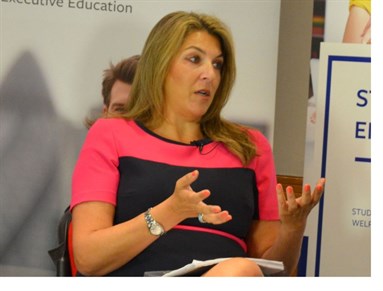 It is important for advertisers to take consumers' journeys into account, says Claudine Collins, Managing Director of MediaCom UK, one of the world's most successful content and communications agencies.
Speaking last Friday in London at the London School of Business and Finance's (LSBF) Great Minds Live series, Ms Collins said that the key challenge facing the industry was the fast pace at which things are changing.
"When I was young everybody used to gather around to watch the television and read the national newspapers," she said. "Now, everybody is always switched on. People, on average, look at their mobile phones 150 times a day. You now have to look at a consumer's journey the whole way through their day."
MediaCom boasts a 200-strong client base which includes Sky, Selfridges, and Cancer Research UK. Ms Collins joined the agency in 1995, and now oversees more than £1 billion of revenue. She is also seen as somewhat of a celebrity in the media industry, having appeared as one of the interviewers on BBC reality show The Apprentice.
Ms Collins spoke about Big Data and the way in which it is driving the industry forward. She said: "Data is incredible. The more information you have about your customer, the more effective you can make the advertising. Having [access to] data means that advertising is much more targeted and, some would say, less annoying."
Moving on to discuss what skills MediaCom look for when recruiting, Ms Collins stressed the importance of creativity. "Everything starts with a big idea and we have big departments of creative thinkers," she said.
Ms Collins also believes that business school education can help when it comes to climbing the career ladder. She said: "Business schools are really valuable when you really get to understand how a business works. When you get to a senior level [that's something] you really need to understand. I didn't go to business school, and I'm considering it now, to get to the next level."
When the conversation moved to focus on gender imbalance in the workplace, Ms Collins was quick to praise MediaCom. Four out of seven people in MediaCom's higher management are women: the CEO, the Managing Director, the Chairman and the Chief Strategy Officer.
Ms Collins said: "In some industries I do think the glass ceiling still exists." When asked what could be done to change this, she said: "It's about educating men about what women can bring to the party." She also discussed the value of different viewpoints, which she feels is more likely to be achieved with a mixed gender team, rather than entirely men or entirely women.
Asked about her personal highlight in her career at MediaCom, Ms Collins chosen the moment she found out that she was to become Managing Director.
Before departing, Ms Collins took the time to offer some advice to LSBF students and graduates. She said: "Coming into a business in media or advertising, absorb as much knowledge as you can. Besides this, find your strengths and concentrate on them. Be yourself, don't pretend to be someone else."
The video featuring Ms Collins's interview will be released by LSBF over the coming weeks.
LSBF Great Minds Series
As well as offering programmes dedicated to fostering leadership skills, LSBF also endeavours to provide students with insight and inspiration through a number of innovative resources. One of these initiatives is the LSBF Great Minds Series: a collection of video interviews with leading business and political leaders promoting debate on education, employability, entrepreneurship and the economy.
The video series started in 2011 with a conversation with former British Prime Minister Tony Blair, followed by an interview with former Education Secretary Lord Kenneth Baker. In 2012, entrepreneur Sir Richard Branson, founder and chairman of the Virgin Group said that universities worldwide should become hubs to boost entrepreneurship and inspire self-starters to develop their own businesses. In 2014, LSBF spoke to Will Butler-Adams from Brompton Bicycle, Guy Hayward-Cole from Nomura Bank International, with former British Prime Minister Sir John Major, entrepreneur and investor Deborah Meaden, Google UK sales director Kevin Mathers and BBC Worldwide CEO Tim Davie.
Kicking off 2015, LSBF hosted interviews with Andrew Miller, CEO of Guardian Media Group; Jill McDonald, CEO of McDonald's UK; Kevin Costello, CEO of Haymarket Group; Amy McPherson, CEO of Marriott Hotels Europe; veteran BAFTA-winning broadcaster Jon Snow, and, most recently, a live chat with Kevin Ellis, Managing Partner of PricewaterhouseCoopers.
---
View other sections in Press & Media