Great Minds Series: LSBF interviews Kevin Costello, CEO of Haymarket Group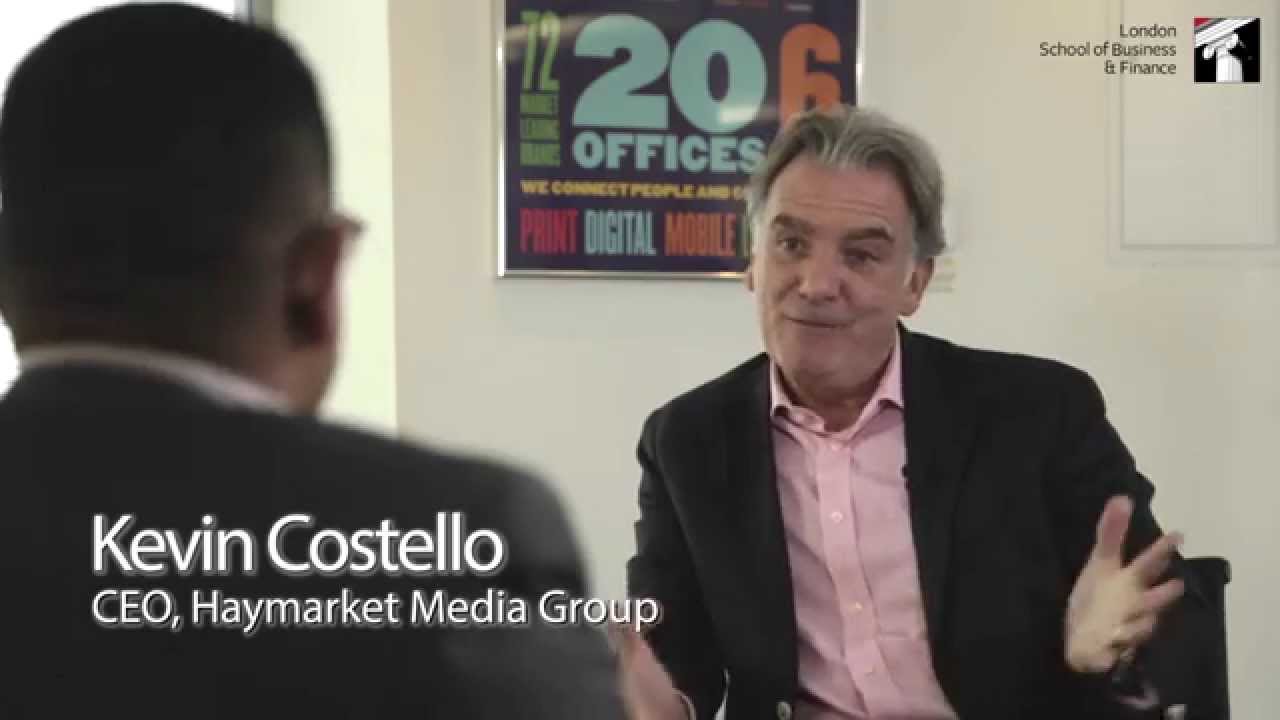 Joining global media group Haymarket in 1994 as a temporary consultant, 21 years later Kevin Costello holds the CEO position of one of the UK's most successful media organisations. Mr Costello is responsible for overseeing the company's divisions in the UK, Germany, India, Hong Kong and the US. He sat down with Nadim Choudhury, Head of Careers Services and Employability for London School of Business and Finance (LSBF) in a recent interview as part of the Great Minds series.
With publications such as FourFourTwo, AutoSport, Brand Republic and F1 Racing in its portfolio, Haymarket started as Cornmarket Press in the 1950s. The partners split in 1965 and the company was renamed Haymarket Publishing. Due to its growing presence in online media and live events, it was rebranded as Haymarket Media Group in 2007.
The company has grown drastically in recent years. "Haymarket is one of the largest privately held media companies in the UK. We are a truly international business, with 20 offices worldwide and 2000 employees in 6 different countries", he said.
The global publishing and media sector has had to overcome unique challenges to adapt to the new processes brought about by the digital age. Speaking on this, Mr Costello said: "The single biggest challenge that we've all faced over recent years has been the onward march of the internet, and the integration of digital assets into our portfolios."
He added: "We've worked hard to integrate into our business a wide range of new technologies and digital platforms."
Mr Costello values the role of innovation within the Haymarket Group. He said: "Creativity for us as a media company is our lifeblood, and for creativity read innovation. We have had to not just adapt to new ways of working, but we are constantly having to find new products and processes to be able to reach our audience."
Responsible for driving the growth of Haymarket internationally, Mr Costello is very enthusiastic about the group's link with education: "We believe very passionately that education plays a critical role in helping us create people who are fit for work in the future with the right set of skills to match our needs. We believe there is an acute shortage of people coming onto the marketplace through education with the right mixed set of skills."
When asked about the most important business lesson he learnt whilst studying his Bachelor's degree in History, Mr Costello said: "The hard yards always pay off," adding: "Putting the energy and effort into working hard will ultimately pay dividends. I think that my example hopefully, through my leadership style, sets a benchmark for others to follow."
Great Minds Series
As well as offering programmes dedicated to fostering leadership skills, LSBF also endeavours to provide students with insight and inspiration through a number of innovative resources. One of these initiatives is the LSBF Great Minds Series; a collection of video interviews with leading business and political leaders promoting debate on education, employability, entrepreneurship and the economy.
The video series started in 2011 with a conversation with former British Prime Minister Tony Blair, followed by an interview with former Education Secretary Lord Kenneth Baker. In 2012, entrepreneur Sir Richard Branson, founder and chairman of the Virgin Group said that universities worldwide should become hubs to boost entrepreneurship and inspire self-starters to develop their own businesses. In 2014, LSBF spoke to Will Butler-Adams from Brompton Bicycle, Guy Hayward-Cole from Nomura Bank International, with former British Prime Minister Sir John Major, entrepreneur and investor Deborah Meaden, Google UK sales director Kevin Mathers and BBC Worldwide CEO Tim Davie.
Kicking off 2015, LSBF hosted interviews with Andrew Miller, CEO of Guardian Media Group; Jill McDonald, CEO of McDonald's UK; and Amy McPherson, CEO of Marriott Hotels Europe.
---
View other sections in Press & Media