Graduates excel at the 2013 Celebration of Achievement ceremony
For another year running LSBF graduates gathered to attend this year's Celebration of Achievement ceremony, held at the Grand Connaught Rooms in central London on Friday, 17th May. The event, which was attended by LSBF's academic faculty and members of senior management, was a chance to celebrate the academic achievements and programme completion of graduates from LSBF's undergraduate and postgraduate programmes.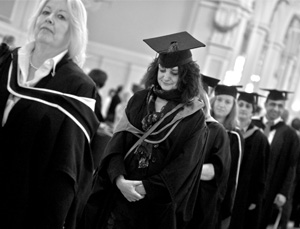 Graduates and guests were seated in London's luxurious Grand Connaught Rooms.
While congratulating students on their success and for becoming part of the LSBF Alumni body, LSBF Rector & CEO, Professor Maurits van Rooijen, said: "It has been a great pleasure to attend the Celebration of Achievement ceremony today and be immersed in this commemorative atmosphere. It's wonderful to see so many of our students achieving their goals and making both LSBF and their families extremely proud. This is the start of what, I am sure, is a very successful career journey for all of our students. Using the knowledge and skills acquired from LSBF, combined with their hard work and determination, is enough to equip them for success in their future careers".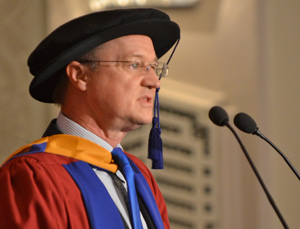 Prof James Kirkbride delivered a keynote speech to inspire graduates future success.
Vice Rector and Director of the Business School, Professor James Kirkbride, added: "Today is about congratulating all of our hardworking students, who have gone on to achieve what we all knew they could. At LSBF they have had the privilege of being part of a community of over 150 nationalities – it is this exposure to such a variety of cultures that will help ensure they go on to achieve great things in today's global business market."
Following the ceremony, graduates and their guests were invited to attend a champagne reception, where they mixed with faculty and staff to toast to and commemorate, in style, the end of their academic studies at LSBF.
To view more photos from the ceremony, visit LSBF on Facebook.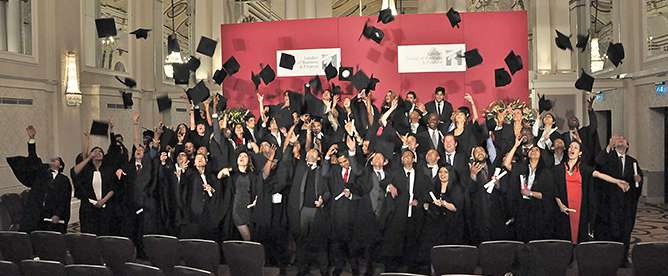 Graduates gathered together to celebrate their academic achievements in style.
---
View other sections in Press & Media