LSBF hosts global conference with Laura Gucci in Rome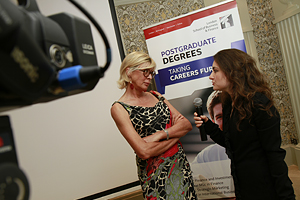 Laura Gucci is is the World President of The World Association of Women Entrepreneurs (FCEM).
Over 60 invited corporate guests, including journalists, business leaders and LSBF students and alumni attended the latest LSBF Global Conference held this week in the Hotel de Russie, in Rome, Italy. The conference, the fourth in a series of global events, was addressed by keynote speaker Laura Gucci, World President of The World Association of Women Entrepreneurs (FCEM), who talked about leadership and the future of businesses in the globalised world.
The international events are part of the new rolling programme of global conferences which LSBF has developed to provide students with networking opportunities and to provide access to fast-growing trends in different industries. LSBF has already hosted events in Greece, France, India as well as Mongolia, Kazakhstan, Brazil and Germany. The next scheduled events of this series will be held in Nigeria, Kenya and Ghana.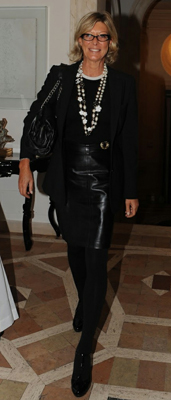 Laura Gucci delivered a speech on leadership and entrepreneurship.
During her presentation, Laura Gucci focussed on the issues currently on the FCEM agenda and introduced the audience to the main trends for the future of the women leadership in business. When asked what young people should do to become business leaders, Laura Gucci said "Education, education and education".
Regarding the new series of events, LSBF's Executive Dean of Business School, Dr. Ann Throne said: "At LSBF, we encourage students to get involved in networking activities as early as possible. With the current job market, schools should enable students to have the opportunity to meet business leaders, and not only learn from them but share their personal experience as future business experts. These networking events will give our students a competitive advantage when they go on to the working world, as they will have started developing relationships with important leaders from an early stage."
A Global Network to benefit our students
With campuses and international offices across five continents and students from over 150 nationalities, LSBF works hard to help students develop networks with their peers as well as corporate partners within their own countries. The networking events are designed to equip students with the global business skills, and networks, needed to develop their career internationally, helping students to achieve their professional ambitions. Over the coming months, LSBF will be hosting a series of international events, open to current and potential students as well as LSBF Alumni in Kenya, Ghana, Nigeria, Moscow and Stockholm.
---
View other sections in Press & Media