Master in Strategic Marketing Online
The Master in Strategic Marketing offers graduates a double qualification in global marketing skills, placing emphasis on career progression and a collaborative learning experience.
Our online marketing programme teaches you how to successfully connect products to people across regions, countries and industries, placing you at the forefront of marketing and business.  You will explore important strategic marketing practices, including the implementation, management and evaluation of marketing activities in both a national and international context.
Course validated and certified by:



Key Facts
Duration: 18-36 Months
Start Dates: January, April, July, October
Campus: Online
Fees/module: £7,000 (Student Payment Plan available)
The programme offers dual accreditation from CMI
This marketing degree will teach you how to address marketing challenges using efficient and creative techniques by covering in-depth market research, data analysis, marketing strategy and communications at a leadership level. Drawing from their expansive business backgrounds, our lecturers infuse industry experience into their seminars and case studies, and are at hand to provide sound career advice.
As a graduate, you will possess the academic and practical expertise needed to become an innovative and influential marketing professional, giving you the option to move directly into senior leadership roles. To get more in-depth information about LSBF's online programmes and how studying online with us works, please visit our library of free-to-watch webinars. 
Enrol on the online Master in Strategic Marketing today:
Become a member of a rapidly growing online community – consisting of more than 15000 students from 150 different countries
Take part in live chat sessions with your tutors, mentors and classmates
Receive comprehensive text books, lecture notes and revision kit
Measure your knowledge via hundreds of case studies contained in HD quality video sessions
Test your progress with quizzes, tests and a self-assessed
This online marketing master degree is for ambitious marketing professionals looking to take their career to the next level, and entrepreneurs who aspire to establish or expand their own marketing business. The programme places emphasis on career progression, and is perfect for both digital and traditional marketers.
Our students come from over 150 nations around the world, from varying backgrounds, industries, and levels of experience – from recent graduates to current marketing managers. You will have the opportunity to learn about marketing in greater depth and network with like-minded individuals and industry professionals.
Our Master in Strategic Marketing is a cutting-edge online degree programme that explores the ever-evolving area of international marketing management. Modern marketers have more communication channels and marketing tools at their disposal than ever before, so an up-to-date knowledge of the modern marketing environment is an essential requirement in the current business climate.
The online Master in Strategic Marketing programme comprises two parts:
3 core modules and 3 elective modules (15 ECTS credits each)
Integrative Research and Consultancy Project (30 ECTS credits)
Part 1
You can choose an accelerated mode of study for any of the core or elective modules (12-15 months) – or the standard mode (completion between 1 and 3 years). The accelerated option consists of 8 weeks of study for each module, with the formative assessment in the eighth week of study. Alternatively, the standard mode can be completed over 12 weeks for each module, with the formative assessment in the last week.
Part 2
After completing the core and elective modules, you will move on to the Integrative Research and Consultancy Project. This will take 20 weeks to complete with a number of formative assessments throughout. The research proposal will be concluded in the fifth week and will count as 20% of the final grade, while the dissertation will represent 80% of your final grade. This will be completed at the end of the 20 weeks, and a senior member of the academic staff will act as your supervisor and provide guidance throughout the project.
Each module will be delivered to you via:
Professionally produced video lectures created by leading business practitioners

A designated tutor who will provide support and feedback throughout your programme

Case studies and discussion questions to enhance your understanding of theory in context

Downloadable e-books and digital library resources to aid your assignment writing and research

Access to online forums where you can share and discuss new concepts with fellow students and professionals from around the world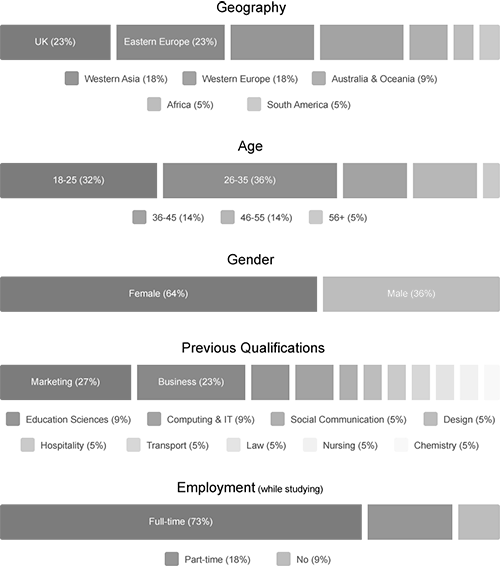 UK undergraduate degree (any class) or equivalent – any subject areas
English Levels 5.5 IELTS (5.5 in all bands)
No working experience is required, but it is considered an advantage
Ann-Marie Mangion
LSBF Online Graduate 2019
Ann-Marie, from Malta, spoke to us about her experience studying her Master in Strategic Marketing course fully online and how it has helped move her career forward.
Student comments
"Studying at LSBF has made me a more rounded worker, able to combine my practical experience, with academic knowledge." Business School
"I have completed a challenging Master's programme that has given me the courage to openly accept any challenge that I am presented with" Business School
The things I've learned from this programme, I can apply in my everyday business life. It has given me a different perspective, not only in the field of marketing, but in business too.' Business School
More student stories