LSBF Excels at the National School Green Awards 2018
Singapore, 5 November 2018 – London School of Business and Finance (LSBF) in Singapore has won two awards at the SEC-StarHub School Green Awards (SGA) 2018. The school received the Yellow Flame Award and the Outstanding Environmental Outreach Project award, securing recognition for the fifth consecutive year.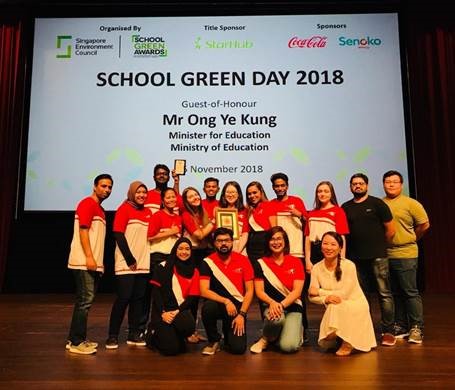 The awards were given to LSBF in Singapore thanks to their continued efforts in developing the sustainability of the school, as well as raising awareness and engaging students in various environmental projects.
Throughout 2018, LSBF's students have participated in a number of activities in aid of the environment. The school's annual beach clean-up proved successful again, having collected 25kg of waste from an 8km stretch of Changi Beach, whilst an e-waste recycling drive held in July accumulated 45kg on mobile phones, batteries and cables.
In an attempt to reduce the amount of green-house emissions produced by LSBF, the school also installed solar films on the glass panels of the IT server room to repel heat. Thanks to this, the air conditioning unit, which is usually required to run at 22°C, has been permanently turned down to 18°C, significantly reducing the power required to run it.
Along with these actions, students and staff have hosted talks from the Singapore Environment Council, and visited the NEWater Visitor Centre, which have both further developed the school and students' understanding of environmental conservation.
Rathakrishnan Govind, LSBF Global CEO, expressed his pleasure in the school's achievements: "LSBF in Singapore is committed to ensuring that our goals and practices leave a positive impact on people and the environment. I am proud of our staff and students who have dedicated their time to green and sustainability efforts, thereby demonstrating the school's values of being responsible global citizens of the future."
About London School of Business and Finance (LSBF) in Singapore
As the recipient of the Excellence in Curriculum and Assessment award at the EducationInvestor Asia Awards 2018, LSBF in Singapore provides a focussed, industry-based education to over 10,000 undergraduate and graduate students from more than 20 countries.
Being a global institution, our focus is on providing a great student learning experience – in and out of the classroom. With the support of LSBF in the UK and the royal patron, His Royal Highness Prince Michael of Kent GCVO, we equip our students with the requisite knowledge and skills through 6 unique learning entities – School of Professional Education, School of Business, School of Hospitality, School of English, Chinese Business Department as well as Executive Development & Online Unit.
In 2016, LSBF in Singapore was ranked as the Best Private School in Accountancy and the Best Private School in Hospitality & Tourism in Singapore. With two campuses in the heart of Singapore's dynamic Central Business District, we are well-positioned to present our students to great quality education and skills necessary to succeed in a career.
---
View other sections in Press & Media