Recruitment Experts Share Insights into the Finance and Accountancy Industries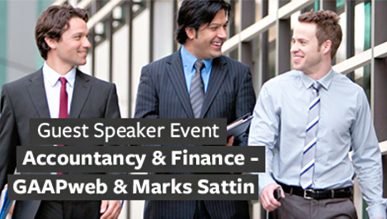 Last week, LSBF welcomed two recruitment specialists to share with students their insight into the finance and accountancy job market, and advise them on how to make top employers – and recruiters – sit up and take notice. The event, led by Jenny Poole, from GAAPWeb; and Mark Thomas, Director of Marks Sattin; was part of a series of workshops and guest speaker events organised by LSBF Careers & Employability Services.
With the graduate job market tougher than ever, the event aimed to help students develop the highly marketable skills they need in order to achieve a rewarding career. During the two-hour session, speakers talked to students about CV writing techniques, online profile management, job search and interview preparation.
Sharing their wide experience in the financial recruitment industry, Ms Poole and Mr Thomas gave a detailed presentation on what employers look for at every step of the hiring process, and cited examples of the most common mistakes students and graduates make when applying for certain jobs.
According to Nadim Choudhury, Head of LSBF Careers & Employability Services, the event session gave students the chance to learn a variety of career-enhancing skills. He said: "At LSBF we aim to offer as many opportunities as possible to allow students to achieve more in their careers. From day one, our students have full access to the entire structure of our Careers Services. The events we promote enable students to meet business leaders and not only learn from them, but also from personal experience."
LSBF's Careers team endeavours to help students improve their employability through a wide range of professional development programmes. To learn more about the services available to students and to keep up to date with upcoming workshops and speaker events, visit: careers page.
---
View other sections in Press & Media