European Parliament's Vice President visits LSBF for Debate on Global Economy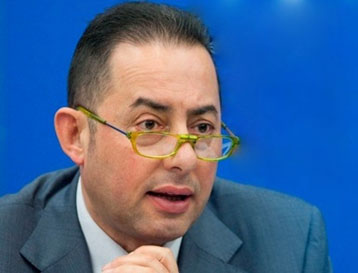 Gianni Pittella, Italian politician and Vice President of the European Parliament.
As part of its mission to immerse students into the business, financial and economic worlds, early in March LSBF hosted a debate with Gianni Pittella, Italian politician and Vice President of the European Parliament. The event was designed for Mr Pittella to discuss the European Parliament's response to the current economic crisis in Europe with 90 of LSBF's top MBA students, who also had a chance to ask questions and network after the session.
Mr Pittella is a member of the Italian Democratic Party and a member of the Socialists and Democrats (S&D) parliamentary group. With interests in education and culture, he is also a delegate for relations in several European countries.
The economic situation in Europe is a key topic for Mr Pittella and he understands precisely what it is that the public require. He explained during the lecture that "people are worried about the European Parliament's capabilities to face and overcome the economic crisis. They want a clear vision for the future, they want the actors that have caused the crisis to share the burden and contribute to its solution."
When talking about possible solutions, Mr Pittella ruled out austerity and said that "we have to believe in Europe. We will build a stronger Europe with our citizens and not without them." He also shared his thoughts on what changes and legislative tools should be put in place to help improve the current situation. "The European Parliament supports Euro bonds in the full knowledge that this means greater political, fiscal and economic integration, widening the gap further between the UK and Euro countries", said Mr Pittella.
Also in attendance at the lecture was LSBF's CEO and Rector, Professor Maurits van Rooijen. Speaking at the event, Prof van Rooijen said: "It is such a great privilege to have my good friend, Gianni Pittella, speak with us in such a frank and open manner, sharing some insight into the changes that need to be applied to build a stronger and more prosperous economy."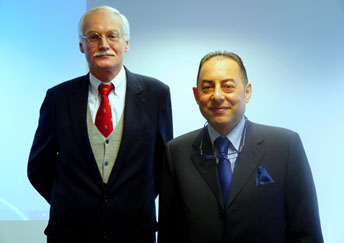 Professor Maurits van Rooijen joined Gianni Pittella for the debate.
Always having student development as a priority, Prof van Rooijen highlighted the professional benefits that career workshops offer LSBF students. Speaking after the event, he added: "At LSBF, we aim to shape the careers of our students, as well as helping them to become global citizens with a sense of responsibility for the world's future. These workshops are a great opportunity for our students to not only network and gain new contacts, but also ask questions and receive immediate feedback from highly respected public figures, such as Gianni Pittella."
To learn more about LSBF's Careers Service and to keep up-to-date with upcoming workshops, visit: www.lsbf.org.uk/careers
---
View other sections in Press & Media