Entrepreneurship & Education: Richard Branson speaks to LSBF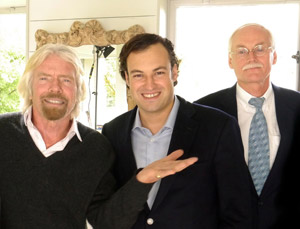 Sir Richard Branson meets with LSBF Founder Aaron Etingen and CEO Prof Maurits van Rooijen
In an interview for the London School of Business & Finance (LSBF), Virgin Group's FounderSir Richard Branson said that universities worldwide should become hubs to boost entrepreneurship and inspire self-starters to develop their own businesses.
"Universities should be encouraging people to run their businesses within the university, where entrepreneurs, teachers and students can share ideas and help each other. We need to encourage entrepreneurs to stay within the confines of universities and get the support they need", he said.
During the wide-ranging interview with LSBF's Visiting Lecturer and former UK Education Secretary David Blunkett MP, the leading entrepreneur revealed his views on how higher education can foster start-ups and how students have the power to make positive changes in the world:
"There are many things in the world that are not perfect and I think students can make this world a much better place. If you are going to spend your life doing something, you should spend it doing something that's going to make a positive difference in people's lives", he said.
As one of the world's most successful entrepreneurs, Richard Branson has diversified into several industries, making the Virgin brand well known worldwide. Reflecting on how simple ideas can become a hit, he said:
"People often overcomplicate what a business is. A business is simply creating something that's going to make a positive difference on other people's lives. Once you have this idea, it's up to you to give it a go and implement it."
Discussing wider issues ranging from sustainability to technology and the global economy, Sir Richard also commented on how businesses and higher education institutions can collaborate with each other for mutual benefit.
"Through technology, businesses could be tapping into a lot of students in universities worldwide, making the time we spend exchanging values and ideas far more useful", he said. "Entrepreneurs have a different way of doing things and they can look into situations, with the benefit of experience, and help governments and social sectors to tackle things in a better way."
Concluding the interview, Richard Branson commented on the industries which young entrepreneurs should be looking to explore. "There are big sectors where I don't think we have invested enough. The clean energy sector is one of the industries with most potential, offering enormous opportunities. Investing in imaginative approaches to trying to deal with clean energy is something that I would highly recommend."
"The interview was also featured on the British newspaper Telegraph and on Yahoo Finance."
LSBF School of Entrepreneurship
Founded on the principle of entrepreneurship, LSBF knows what it takes to start a business. Aiming to encourage self-starters to get their businesses off the ground, the school has recently launched the LSBF School of Entrepreneurship.
With courses specially tailored to meet the needs of self-starters, the LSBF School of Entrepreneurship offers executive and short courses as well as postgraduate degrees. Some of the courses available include the Global MBA and GGSB MBA both specialising in Entrepreneurship, and more specifically, the school also offers an MSc in Fashion, Design and Luxury Management and Advanced Certificate in Innovation, Technology and Entrepreneurship.
With many of its alumni running their own companies, LSBF strives to give entrepreneurs all the expertise and skills they need to pursue their business ventures.
The programmes focus specifically on enterprise, while the school organises events, workshops, masterclasses and competitions to promote business innovation. Some of these programmes offer financial support and business guidance to young entrepreneurs, proving them with the tools necessary to take their companies off the ground, wherever they are.
To learn more about LSBF School of Entrepreneurship, visit LSBF.org.uk/StartUp
---
View other sections in Press & Media