Entrepreneurship: From Idea to Opportunity
Professor David Rae, Director for Enterprise & Innovation at University of Lincoln, delivered a guest lecture on 'Entrepreneurship, Creativity and Learning' to a crowded room of students in LSBF on Thursday, 28 November. Professor Rae is a founding member of the Institute of Small Business and Enterprise and has published widely on this topic in both peer-reviewed and trade journals.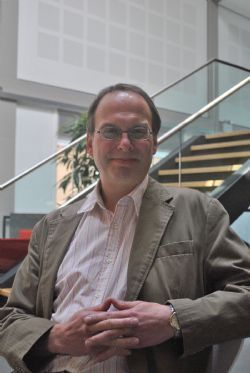 Professor David Rae / Credit: University of Lincoln
In a market where the scope for entrepreneurial ventures is tremendous, and in need, Prof Rae elaborated on the driving forces behind the demand for entrepreneurship and the innovation required for pursuing projects. He emphasised on thinking as a 'knowledge entrepreneur' and on what factors contribute to entrepreneurial effectiveness. The 60-minute session also included discussions about the prerequisites for cultivating an entrepreneurial mindset, raising awareness levels and honing capabilities.
His lecture also covered the following key questions:
What is the entrepreneurship process?
How do you generate creative opportunities?
How are ideas & opportunities different?
What is the innovation journey from idea -> opportunity -> action?
How does this connect with my learning?
The event, the first in a series in partnership with the University of Lincoln, covered some of the emerging academic models on how entrepreneurs think and turn ideas into reality and some reflections on 'creative destruction'.
With many of its alumni running their own companies, LSBF strives to give entrepreneurs all the expertise and skills they need to pursue their business ventures. "At LSBF, we believe that entrepreneurship and education complement each other. An academic environment, where teachers and students can share ideas and help each other can be extremely beneficial for entrepreneurs and start-ups", said Syed Muhammad, MBA Course Leader. "It was a great pleasure to welcome Prof Rae to LSBF and we hope students enjoyed the talk as much as we did."
Professor Rae led the development of enterprising learning at the University of Derby as Director of Enterprise Development, and previously at Nottingham Trent University he led the team which developed The Hive. He has published two books on entrepreneurship, the most recent being, 'Entrepreneurship – From Opportunity to Action'.
---
View other sections in Press & Media