LSBF expands offer of exclusive programmes with London Metropolitan University
Under the new, recently announced partnership with London Metropolitan University (London Metropolitan University), LSBF has also announced a range of Undergraduate, Postgraduate and Professional programmes to be validated by London Metropolitan University and delivered at LSBF's UK campuses and online via the award-winning e-learning partner InterActive Pro, over the coming months.
Increasing its Undergraduate offer, LSBF has introduced the BSc (Hons) Business Management and BSc (Hons) Financial Management which equips students with the expertise needed to understand business and finance management industries on a global scale. LSBF is also introducing new pathways to its programmes, through which students can have a deep understanding of their chosen field. The pathways cover key sectors such as Global Business and Banking & Finance and are open to both home and international students.
Postgraduate programmes include MBA Global, MSc Finance and Investment and MSc Strategic Marketing and Graduate Certificate in Business. The programmes are designed to equip students with the current and emerging theories, techniques, and practices of management, finance and marketing and provide 30 different career routes, through a wide range of pathways.
With its Postgraduate programmes, LSBF endeavours to provide a stimulating and intellectually demanding environment, in which students are encouraged to engage with the academic literature, case-studies, and each other, whilst reflecting on their own managerial and business experiences.
With all programmes, LSBF offers a range of different pathways. On the MBA Global, for example, students can choose from a range of over 16 pathways covering areas varying from Financial and Marketing Management to Entrepreneurship and Luxury Brand Management.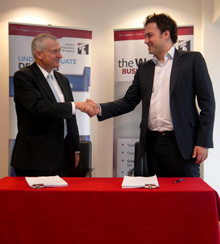 London Metropolitan University Vice-Chancellor Professor Malcolm Gillies and LSBF CEO Aaron Etingen sign the strategic partnership
The introduction of new pathways is in line with LSBF's ethos to provide specialised degrees and to give professionals from different industries the knowledge in business necessary to develop their careers worldwide.
Under the new partnership, LSBF has also expanded its portfolio of Professional courses by introducing new programmes in Accounting and Finance and Strategic and Financial Management, ranging from Preparatory Diplomas to Postgraduate level.
LSBF Vice-Rector James Kirkbride said: "We're very happy to introduce the new range of programmes in partnership with London Metropolitan University. The courses will give students the opportunity to enhance their professional skills and employment prospects further than just studying for a standalone professional qualification by gaining invaluable experience as part of the work experience requirement within the course."
"Students will gain holistic and well-rounded educational and professional development in demand by employers by gaining a diploma awarded by London Metropolitan University and benefit from LSBF's award-winning tutors, based in premium premises, with access to comprehensive online resources. LSBF also provide a free and well-resourced Corporate and Careers Service, and students will benefit from employer-demanded practical skills development."
To learn more about the programmes, visit LSBF's partners page.
---
View other sections in Press & Media