8 Things You Could Buy On An Accountant's Salary

ACCA-qualified accountants can earn an impressive starting salary of up to £45,000 per year, but what could that buy you?
One of the best things about accountancy is that starting salaries are way above average. Newly qualified ACCA accountants can start on an average of £45,000 per year. But what does that equate to in real terms?
1. 62,285 tins of baked beans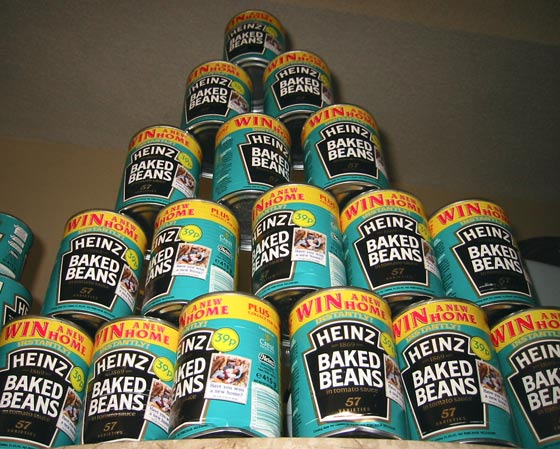 If you're expecting to pay about 70p for a branded tin of beans, you can stock up for the next Ice Age by spending your whole salary on 62,285 individual tins (more if you opt for multipacks). Make sure you have the space for them, though, since you'll have to find room for 2,596 separate crates
2. 118,421 biro pens
If you're one of those people who never seems to be able to find a pen when you need one, here's the perfect solution. At a cost of £3.80 for a pack of ten branded biros, you could make sure you're never caught without something to write with again. Unless, of course, you have nothing to write on…
3. 3,656,250 Post-it notes
…which is where the Post-its come in. The average £4.00 cube of Post-its contains 325 individual sticky notes, meaning £45,000 could buy you more than three and a half million of them. If only you had enough surfaces to accommodate them.
4. 5,000 Casio scientific calculators
Accountants are seriously good with numbers, but they have plenty of tools to help them do the jobs. Don't worry about replacing the batteries – just buy 5,000 scientific calculators and pass them on as and when they run out.
5. 52,143 litres of milk
At around 49p per pint or 86p per litre, £45,000 will buy you more than 52,000 litres of milk, meaning you'll never have to wake up in the morning and be faced with dry cereal again. Buy it in stages, though – you don't want a fridge full of the smell of curdled dairy.
6. 69 return flights from London to Barbados
Flights from London for a two-week holiday in Barbados in July can cost around £645 return if you book a few months in advance, which means you could fly there 69 times on an accountant's starting annual salary. If you take a guest, that's 34 journeys – and maybe an extra one for yourself…
7. 24 nights at the Savoy
Fancy celebrating a special occasion at one of the world's most exclusive hotels? £45,000 could buy you three-and-a-half weeks at the Savoy in the heart of London in this room. With a king-size bed, Thames view and Wi-Fi, this 80sqm suite comes with a butler and a chauffeur to drop you off at locations in the area. And of course, breakfast is included too.
8. A BMW Z4 sDrive 18i Roadster
The starting price for this Z4 is £27,735, so you could afford to go crazy with optional extras. Walnut leather seats, fine-wood trim, alloy wheels, cruise control, parking sensors, built-in sat-nav, loudspeakers, electronic folding mirrors, heated seats and steering wheel, automatic air conditioning, adaptive suspension and an automatic transmission for the Sport option and even a TV function and internet connection. The version we built online came in at £44,110, which leaves you some change to keep the tank filled up.
According to the Robert Walters Global Salary Survey 2013 (page 10), newly qualified ACCA accountants can start with an average salary of £45,000 per annum, while experienced ACCA professionals can earn up to £90K per annum.
If you want to follow a career in accountancy, book your ACCA programme today and get £1,400 off and a free tablet.
---
Other Opinions and Features
Accounting has always been a field that's associated with piles of paperwork, spreadsheet and staggering numbers. Using computers to carry…
The CFO role is often thought of as being largely preoccupied with numbers and data, but in the last few…
Wondering what accountancy is really like as a career? Many people think that being an accountant is just number crunching…