London School of Business And Finance in Singapore signed strategic collaboration agreement with iBosses Vietnam

Singapore, 25 February 2019 – London School of Business and Finance in Singapore (LSBF) has announced an agreement with iBosses Vietnam. The collaboration is part of LSBF's long-term global expansion plan to launch and deliver Association of Chartered Certified Accountants (ACCA) programmes in Vietnam.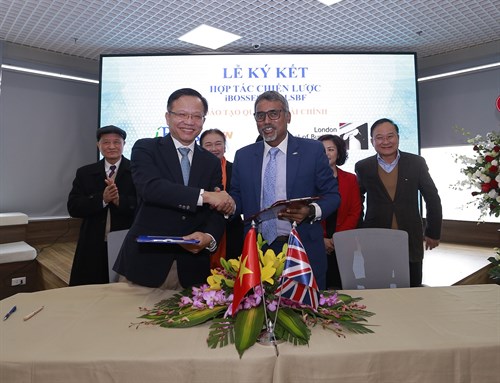 iBosses Group is Asia's fastest-growing entrepreneur development platform, dedicated to inspiring and leading potential entrepreneurs in pursuit of success through training programmes. With 21 centres in Singapore, Malaysia, Hong Kong, China, the Philippines and Australia, iBosses aims to become a global leading provider.
Vietnam is the main destination for LSBF Singapore's global expansion, with a plan to launch and offer both online and on-campus programmes to multiple countries within the region. The collaboration with iBosses Vietnam will start with the launch of online ACCA programmes, followed by a vast array of executive programmes, designed for corporates who want to train their staff on ACCA.
This is the initial stage of the LSBF Global Learning Experience which will be implemented with iBosses Vietnam. Mr Rathakrishnan Govind, LSBF Global CEO, said: "Vietnam is a key destination for LSBF because of its large youth population and keen interest in quality education offered by foreign providers. We believe it is the right time to introduce LSBF's delivery models, which are suited to the fast-paced and challenging environment our students are experiencing."
As part of the agreement, LSBF Singapore will provide all the ACCA online content and study guides as well as international teaching resources, while iBosses Vietnam will provide the necessary resources and facilities for training projects and student management. This collaboration allows students in Vietnam to have full access to the same LSBF ACCA tuition, materials, teachers and lectures available to students in Singapore and London.
Delivered via online and blended learning, this unique model offers great flexibility. Students can enrol in papers that are suited to their schedule and combine them in an affordable package including main classes, revisions and exam focus sessions for all four ACCA exam sittings.
LSBF Singapore and iBosses Vietnam students who complete their skills level papers in Vietnam will be offered an exclusive opportunity to study for their ACCA professional papers with LSBF in Singapore. "With our online and blended learning model, we aim to cater to the public and corporate markets by offering flexible study options suited to their needs," added M Govind.
About London School of Business and Finance (LSBF) in Singapore
As the recipient of the Excellence in Curriculum and Assessment award at the EducationInvestor Asia Awards 2018, LSBF in Singapore provides focused, industry-based education to over 10,000 undergraduate and graduate students from more than 20 countries.
Being a global institution, our focus is on providing a great student learning experience – in and out of the classroom. With the support of LSBF in the UK and the Royal patron, His Royal Highness Prince Michael of Kent GCVO, we equip our students with requisite knowledge and skills through 6 unique learning entities – School of Professional Education, School of Business, School of Hospitality, School of English, Chinese Business Department as well as Executive Development & Online Unit.
In 2016, LSBF in Singapore was ranked as the Best Private School in Accountancy and the Best Private School in Hospitality & Tourism in Singapore, and has been awarded with the Platinum Approved Learning Partner Status by the Association of Chartered Certified Accountants (ACCA). With two campuses in the heart of Singapore's dynamic Central Business District, we are well-positioned to present our students with high-quality education and the skills necessary to succeed in a career.
---
View other sections in Press & Media