LSBF holds successful Facebook live AAT webinar
London, 13 December 2017 – London School of Business and Finance (LSBF) on Wednesday 6 December held a live webinar about the Association of Accounting Technicians (AAT) qualification on Facebook. The live 30 minute session highlighted what the AAT qualification is, the opportunities available in this professional field, and the study options that LSBF has to offer.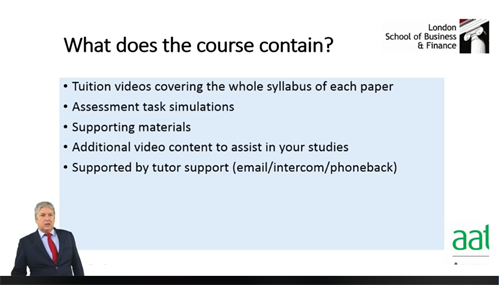 The webinar was hosted by Rob Sowerby, Director of Professional Courses at LSBF, and broadcasted live on the LSBF Facebook page.
Along with sharing advice on how to start and improve a career in accountancy through an AAT qualification, he talked about the AAT course offered by LSBF and the study experience available online with constant professional support.
Almost 2,000 viewers followed the online webinar, tuning in from the UK, Europe, Asia and Africa. They were given the opportunity to learn more about AAT from the comfort of their home, along with exploring career progression opportunities and discovering the potential of online study. Thanks to the interactive nature of the medium, they were also able to post comments and questions throughout the session and receive real time feedback.
The AAT webinar is one of the latest innovations by LSBF to deliver support and information to students. In 2016, LSBF launched the #FacebookLive ACCA mentoring programme which provided students worldwide with a last-minute revision session before their exams. The three-day programme reached more than 30,000 views and over 700 engagements. It also won the "Best use of social media" category at the PQ Awards 2017.
The Association of Accounting Technicians (AAT) is the UK's leading professional body for entry-level accountants, who can then work their way up to senior level.
"AAT is a great opportunity for students to access professional training at an entry level. We are proud to support the training of future finance professionals with industry leading content, that is responsible for those students being successful on their first steps of the qualifications ladder," said Mr Sowerby.
LSBF Online has been offering online professional accounting courses and qualifications since 2008, and is currently offering free online tuition for the AAT Level 2 Foundation certificate.
About London School of Business and Finance (LSBF) Online
LSBF Online is the digital branch of London School of Business and Finance (LSBF), a global provider of professional & executive courses alongside postgraduate degrees. LSBF Online offers accountancy qualifications (ACCA, and AAT) as well as master's degrees and online short courses.
It offers three key features: personalisation, flexibility, and access. This means that students can tailor their studies to their interests and fit learning around their schedule, no matter where they are in the world.
Since its beginnings in 2008, LSBF Online has gone from strength to strength – most recently being recognised as an ACCA Gold Approved Learning Partner.
---
View other sections in Press & Media