PQ Awards 2017: LSBF wins Best Use of Social Media and Distance Learning Student of the Year awards
London, 6 March 2017 – London School of Business and Finance (LSBF) has scored a double at the 2017 PQ Awards ceremony, held at the Café de Paris on Tuesday 21 February. Writing its name in the book of winners once again, LSBF stood out from the competition in two categories - "Best Use of Social Media" and "Distance Learning Student of the Year" – showing its ability to innovate and widen access to education.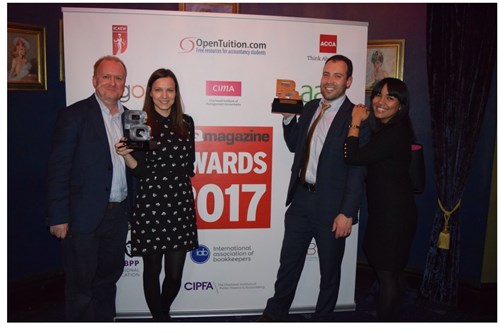 Pioneering solutions
The prize for "Best Use of Social Media" was awarded to the #FacebookLive ACCA mentoring programme, launched in December 2016 to help the students worldwide by providing a last-minute revision session the night before the Association of Chartered Certified Accountants (ACCA) exams. Senior tutors Rob Sowerby and David Laws hosted live video mentoring sessions on Facebook, discussing specific papers in detail and guiding students through the key elements of the papers.
Praised for bringing a new and refreshing approach to exam preparation, the sessions allowed students to interact with the lecturers, receiving live feedback and answers along with tips and advice. The three-day programme reached more than 30,000 views and over 700 engagements. Facebook Live is the latest and one of the biggest platforms in the world for broadcasting live videos. The ambition was to provide students worldwide with a chance to participate in a last-minute, tutor-led revision session and have their questions answered on the night before the exams took place.
The videos reached users via an accessible, user-friendly platform and provided leaners with an opportunity to get the support that they wouldn't easily have otherwise. It also gave them the chance to get their questions answered by some of the most knowledgeable and experienced ACCA tutors in the UK.
Distance Learning Student of the Year
LSBF also celebrated the victory of Susan Azzabi as "Distance Learning Student of the Year". Susan recently sat the final exam for her ACCA qualification, which she has been studying since 2005 after gaining her CIMA Certificate in Business Accounting. This award, aimed to recognise the institution's commitment in widening access by breaking geographical barriers, reflects on the quality of LSBF's e-Learning portfolio, from short courses and professional accreditation to MBAs.
Her current and previous roles include positions in financial management with the United Nations and the World Health Organisation, as well as small independent companies, giving her a wide range of experiences. Alongside her work, Susan never overlooked the importance of professional education. She is currently working for a consortium that is developing a project for Muscat's International Airport in her native Oman, acting as focal contact person for all financial matters, and is looking to take her career even further as an ACCA affiliate.
A winning tradition
Paul Merison, Director of ACCA Studies, commented on the successful night: "This is the eighth consecutive year for LSBF winning at the PQ Awards, and we are proud of the result and what it says about our commitment for a truly accessible education. The #FacebookLive mentoring programme has been positively received by students and lecturers, generating interest within the industry. We are confident it will help us to build on our legacy and expand our reputation as innovators."
Year after year, LSBF has been leaving its mark on the PQ Awards, which recognise the best institutions, teachers, and students in the accountancy education field. This year, LSBF achieved five nominations, including a nod to the Singapore campus, which was shortlisted for the Accountancy College of the Year award.
"We work hard to raise our international profile, and this nomination was a clear sign that we are on the right path to delivering quality education and qualifications across the world," said Merison.
With award winning programmes and lecturers, LSBF offers students a wide range of solutions to acquiring qualifications and improve their careers. Find out more on LSBF's ACCA page.
---
View other sections in Press & Media