Students from Denmark Visit LSBF for International Academic Workshop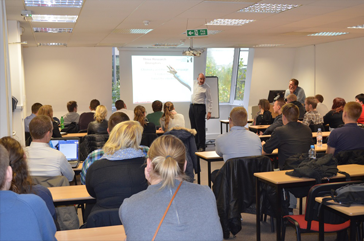 As part of LSBF's efforts to strengthen and expand academic collaboration with intuitions worldwide, a delegation of 40 students and faculty from the Zealand Institute of Business and Technology (ZIBAT) in Denmark visited the Red Lion Street campus in central London for an academic workshop.
This is ZIBAT's third annual week-long visit to LSBF to learn from UK lecturers and experience life in one of the world's busiest financial hubs. The aim of the event was to help postgraduate students to develop their research skills.
One of the first activities was a workshop on how to write academic research led by Dr Steve Priddy, LSBF's Head of Research. They covered a range of useful topics, including how to write a research question, define their objectives, write a literature review, and which forms of methodology can be used to do so.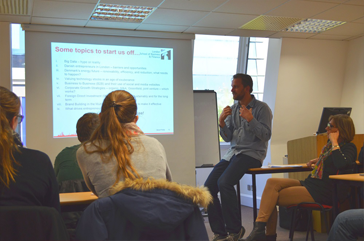 Assistant Professor at ZIBAT Jakob Hornbeck said: "I think the event went very well. The good thing about this event is that students are going to start working on their projects soon, and this workshop means their minds are going to be extra sharp."
Later in the afternoon, Danish entrepreneur Per Wimmer met the students. An accomplished businessman, Mr Wimmer owns and runs his own investment bank, Wimmer Financial. After travelling the world, he is now training to be the first Dane in space with his new project Wimmer Space.
"Travelling so much, going further out and further away, inspires you to do the ultimate; and for me, that was space," he said.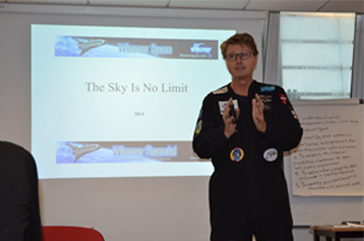 He gave a talk titled 'The Sky Is No Limit', explaining the seven fundamental values of Wimmer Space and detailing how rose to his current position as a successful entrepreneur.
The students found the day extremely helpful. One student, Michelle Oestergaard, said: "I'm learning a lot! It's different to what we have at home in Denmark, so it's really good for us."
Comprising highly qualified, seasoned business professionals and academics from around the world, LSBF's faculty is committed to providing students with opportunities to achieve success.
To learn more about LSBF's academic team, visit /faculty
---
View other sections in Press & Media