Great Minds Series: LSBF interviews Kevin Mathers, Google's UK Sales Director
Click here to watch this video on YouTube
In a recent interview with London School of Business and Finance (LSBF), Google's UK Sales Director, Kevin Mathers, revealed his belief in the idea that leadership is a quality which can be taught. Participating in LSBF's Great Minds series, Mr Mathers, who has worked at Google for eight years, made it clear that the teaching of leadership skills is something he is passionate about.
"Some people might have different capabilities for leadership, but absolutely, it can be taught. I view myself as leadership by action. Lots of people can talk about stuff but managing teams is about helping those teams achieve their goals," Mr Mathers told Nadim Choudhury, Head of Career Services and Employability at LSBF.
Mr Mathers joined Google in 2006 as their Head of Partnerships. Over an eight-year time he progressed within the company, stepping into roles such as Industry Leader in Technology and Managing Director of YouTube UK (who were bought by Google in 2006), earning the title of UK Sales Director in January, this year.
Innovation is something which Mr Mathers believes integral to Google and its operations. He told Nadim: "Innovation is core to our model, core to our DNA. We're a company that grew from innovating around links on the internet, realising that the links between webpages could be useful for people. So, we see innovation as dramatic change."
Mr Mathers identified Google X as one of Google's most innovative counterparts. Google X is a facility dedicated to making major advances in technology; they aim to make science fiction-sounding concepts a reality. Some of their projects include Google contact lenses, which have the ability to monitor glucose levels in tears and Project Loon, providing internet services via balloons in the stratosphere.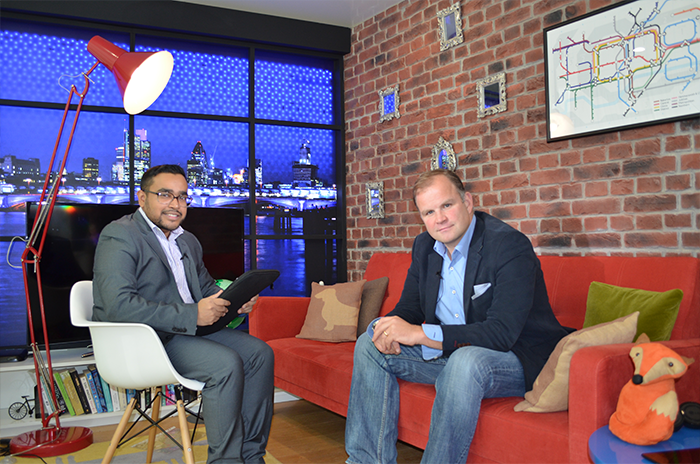 When asked whether he felt education could be improved by technology, Mr Mathers' simple answer was 'yes'. Thinking back to his own education, Mr Mathers recalled everyone learning the same thing at the same time, despite differences in capabilities. He believes that, in years to come, education could be enhanced using data. He said: "Wouldn't it be great if everyone was learning at their own pace? A system of adaptive learning looks obvious for how it's going to work out in the future."
Mr Mathers holds a degree in engineering and an MBA. He gave this advice to LSBF students: "It's all about belief and passion. Take a step back and think 'what are the things that get me out of bed?' Work out what it is that you're passionate about and go and find a job as closely connected to that as possible."
LSBF Great Minds Series
LSBF Great Minds Series is a collection of video interviews with leading business and political leaders aimed at inspiring students and promoting debate on education, employability, entrepreneurship, and the economy.
The video series started in 2011 with a conversation with former British Prime Minister Tony Blair, followed by an interview with former Education Secretary Lord Kenneth Baker. In 2012, entrepreneur Sir Richard Branson, founder and chairman of the Virgin Group said that universities worldwide should become hubs to boost entrepreneurship and inspire self-starters to develop their own businesses. Earlier in 2014, LSBF spoke to Will Butler-Adams from Brompton Bicycle, Guy Hayward-Cole from Nomura Bank International, with former British Prime Minister Sir John Major and entrepreneur and investor Deborah Meaden.
---
View other sections in Press & Media