LSBF partners with Bloomberg to expand students' career opportunities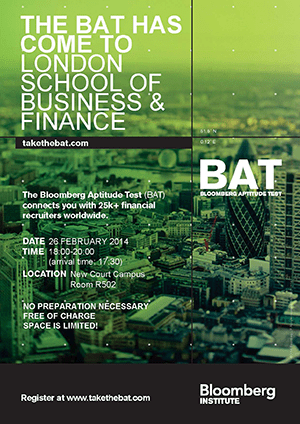 Committed to encourage and develop students both professionally and academically, LSBF has partnered with Bloomberg L.P., the leading financial data and news provider, to offer the Bloomberg Aptitude Test (BAT) on campus. The multiple choice test evaluates students' abilities as relative to a career in finance and then helps them to be in touch with over 20,000 employers.
While helping students to gain insights into their strengths and weaknesses, the BAT will also allow them to demonstrate their skills to employers, thus facilitating their placement in the financial sector. According to Bloomberg, more than 140,000 students have taken the BAT in 1,200 universities around the world and, in the past six months, over 40,000 students have been contacted by employers to discuss job opportunities.
After taking the test, LSBF students will be entered into the Bloomberg Talent Search, a tool used by employers to find new talent for positions in the financial sector. Some of the world's leading financial services organisations, including the top bulge brackets investment banks, use this tool to identify and screen students who wish to pursue a career in global financial services.
"This is a fantastic opportunity for our students, which is in line with our goal to provide them with career development opportunities. With the BAT, they can know their strong points and identify a suitable role in the financial sector. It is also a great opportunity for them to demonstrate their skills and knowledge to potential financial employers worldwide", said Nadim Choudhury, Head of Careers & Employability at LSBF.
As an added benefit this year, Bloomberg is providing all BAT test-takers a complementary six month subscription to Bloomberg Briefs - a premium newsletter used by thousands of hedge fund managers, bankers and portfolio managers. After taking the BAT, students will also gain access to a premium pack that includes the daily Economics Brief and the daily Mergers Brief along with the weekly Private Equity and Hedge Fund Briefs.
For additional information about the BAT visit www.takethebat.com. To learn more about LSBF Careers and Employability Services, visit /careers
---
View other sections in Press & Media