200,000 and counting: LSBF Facebook page shines as the most liked amongst business schools in the UK
As an institution passionate about providing first-class academic support and expanding the access to global education worldwide, LSBF is proud to announce that its official Facebook page has surpassed 200,000 likes. In reaching this milestone, LSBF has secured its position as the most followed business school in the UK. The platform was launched in 2010 to unite LSBF students around the world and provide them with a host of academic content, as well as competitions, insightful discussions and up-to-date LSBF news, such as the recent unveiling of our innovative LSBF Executive Education Course Selector.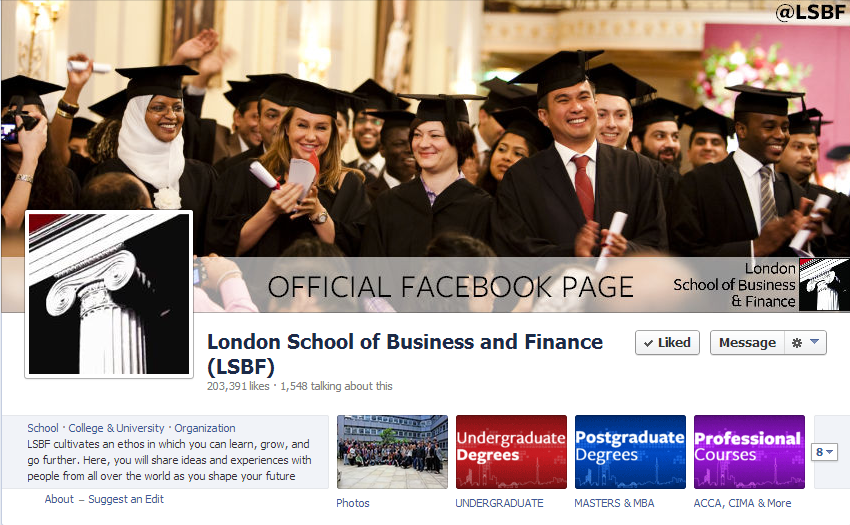 With over 200,000 likes, LSBF is the most followed business school in the UK.
This latest achievement means that LSBF is not only the most followed Business school in the UK, but the page has more followers than the next seven most followed business schools and colleges combined. LSBF also has an additional two Facebook channels, LSBF Prep Centre for ACCA and LSBF Global MBA , each with over 100,000 'likes', and when all social media channels are taken into consideration, LSBF is just shy of half a million social media followers across the globe.
Graeme Simpson, Director of Marketing and Communications at LSBF, commented: "At LSBF our aim is to provide students with as much support as possible – both inside and outside of the classroom. It's remarkable to pass 200,000 followers. We now plan on expanding our social media reach even further by using cutting-edge technology to host a variety of fresh, innovative social media content, starting with an exciting platform for our undergraduate students."
LSBF Undergraduate Centre
Last month saw the launch of a new LSBF Facebook page, the LSBF Undergraduate Centre – a platform dedicated to our expanding undergraduate community. The page, launched to coincide with the 2013 Clearing intake, also features an application that allows students to apply to study at LSBF directly through Facebook.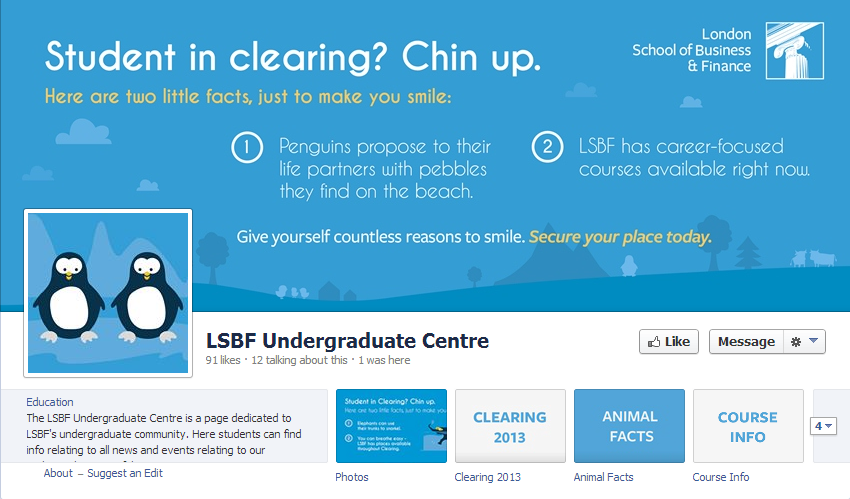 Students can apply to LSBF Clearing directly through Facebook.
Karina Kizhner, Head of Undergraduate Studies at LSBF, stated: "The new Undergraduate Centre is designed to act as a community portal for both current and prospective students and will host a mixture of academic and non-academic content. The start of higher education can be an exciting but overwhelming experience, so we wanted to ease this process for students by giving them useful content they can use to maximise their experience beyond the classroom."
Keep up to date with our key social media channels by visiting the following: LSBF Official, LSBF Prep Centre for ACCA, LSBF Global MBA, LSBF Undergraduate Centre, LSBF Google+ and LSBF LinkedIn.
---
View other sections in Press & Media