LSBF Rector Speaks at the Education Investor Summit 2013
LSBF's Rector and CEO, Prof Maurits van Rooijen, last week joined other important names from the business and education worlds at the Education Investor Summit 2013, one of the major industry events held this year in London.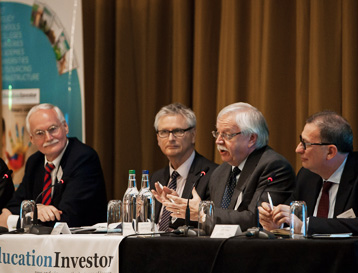 The panel discuss the opportunities for partnerships in education.
As a thought leader, Prof van Rooijen was one of the guest speakers on the "Opportunities for Partnerships in Education" panel, which discussed how the public and private sectors can work together to stimulate development in higher education. The event was attended by leading influencers and innovators in the sector, who were exposed to discussions about commercial opportunities, the internationalisation of UK education, academic partnerships and the financing of educational institutions.
Commenting on the event, Prof van Rooijen said: "The Education Investor Summit is the perfect platform to cement LSBF's position as the fasting growing private provider in this country. It was also a great chance to discuss real business issues and the challenges faced by organisations in everyday life. Speaking in an environment with so many like-minded people from a range of different backgrounds allows us to not only share our knowledge as a school, but learn ways of improving too."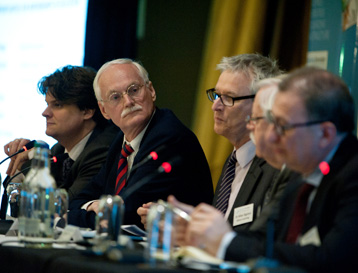 Prof van Rooijen (centre-left) among the other panellists.
During his panel discussion, Prof van Rooijen was joined by leaders of organisations such as Edison Learning, UPP Group and Loughborough University/Rolls-Royce UTC in Combustion Aerodynamics. The group addressed the needs of the public sector and how these needs differ to those of the private sector, the current nature of public private partnerships and the different business models currently used for public private partnerships amongst other topics.
To learn more about the event, click here.
---
View other sections in Press & Media