LSBF students and staff participate in a hiking challenge to raise over £13.000 for educational charity
Last month students, staff, and friends of London School of Business and Finance (LSBF) endured a 20 mile charity hike of the tallest mountains in England and Wales to raise funds for the LSBF H.O.P.E. (Health, Opportunity, Potential, and Education) appeal. With over 60 hikers and contributions from hundreds of members of the LSBF community, the event raised over £13,500, with all profits going to the new charitable foundation to help support and inspire the next generation of entrepreneurs around the word, regardless of their economic background.
The hiking challenge is one of LSBF's latest fund-raising ventures organised to involve the entire school community to work together towards the same mission: to help young people from underprivileged backgrounds have the opportunity to achieve their dreams and career goals.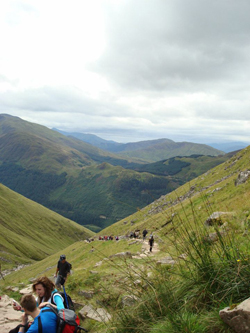 LSBF students and staff came together for a charity hike in an effort to raise funds for the LSBF H.O.P.E appeal.
Setting off on Saturday 25th August in Wales, the LSBF hikers got ready to climb Mount Snowdon with an elevation of 1085m. The group completed this first challenge in six hours, persevering through the rain and cold wind to hot weather and sunshine. With the help of the mountain leaders, the group hiked past cascading waterfalls, lakes and picturesque mountainous greenery.
After a well-deserved nights rest, the group then proceeded to face the second challenge. Situated in the Highlands region of Scotland, Ben Nevis is the highest peak in the U.K. LSBF hikers started from nearly sea level and climbed up almost the full height of the mountain, 1,300 metres, walking a total of 10.6 miles in six hours.
LSBF student Dharam Chavda said: "The Three Peaks Challenge was an amazing life experience! The best part was being together with a great bunch of LSBF staff and students who shared the same goal of completing such a remarkable challenge." By encouraging his co-workers and friends to sponsor him and contribute to the charity, Dharam was able to make the largest donation to the campaign by raising over £700 in sponsorship.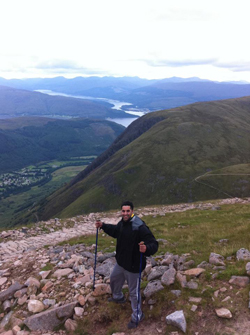 Dharam raised £700 in sponsorship of LSBF H.O.P.E
Social Responsibility
As an international and socially responsible business school, with campuses around the UK and a global presence in Singapore and Canada, LSBF believes that young people and future business leaders should have access to high quality education and training despite their financial background. Last year, LSBF awarded over £2 million in scholarships to help young people realise their educational aspirations.
Earlier this year, hundreds of students from LSBF's London, Manchester and Birmingham campuses showed their support for LSBF H.O.P.E with a series of fundraising regional football matches. The winning teams from the regional tournaments had the once in a lifetime opportunity to play a football match at Anfield, the world famous stadium, home of Liverpool Football Club.
"At LSBF we take our social responsibility very seriously and we always try to work alongside communities and charities to make the difference in the lives of the people who will be the world's future leaders. I am pleased to see the enthusiastic support of everyone at the school. These events are also a great opportunity for staff, students and friends of LSBF to spend time together and raise money for a very good cause", concluded Nicola Schaefer, Regional Business Development Director at LSBF.
---
View other sections in Press & Media