LSBF strengthens academic networks through new partnership with the South African Chamber of Commerce
London School of Business and Finance (LSBF) is pleased to announce a new strategic partnership with the South African Chamber of Commerce (SACC) to strengthen and expand its existing academic networks.

A forum and meeting point for businesses that have an interest in SA and the UK.
The SACC is an umbrella organisation and channel for trade, community and investment into and out of South Africa. Working to develop global business opportunities, it brings under one combined effort, a forum and meeting point for businesses that have an interest in both the UK and South Africa.
New research agenda for LSBF students
As part of the new partnership, LSBF become the SACC's official educational partner with a seat on the Board of SACC – permitting access to members, trade missions and dignitaries visiting London. The relationship will also see our students being involved in research with the SACC, its membership and its stakeholders to produce a programme of applied research that will be of mutual benefit to the SACC members and the LSBF student population, such as looking into which industrial sectors provide the best opportunities for improving bilateral trade links between the UK and South Africa.
Hence, with around one thousand LSBF students annually undertaking a Master's programme requiring business research, these students will find having access to a credible body of research conducted by the SACC extremely beneficial to use for their studies. Additionally, these students will be granted access to leading South African companies, thereby providing an opportunity to research into the country's current challenges and present evidence based solutions.
Major benefits of the SACC partnership
The partnership will also give LSBF students the chance to attend exclusive events in London. The SACC under one management brings organised activities offered by the SA Business Club, the Breakfast Indaba, Trade missions, SA Business Awards, Mamba Mentors, Board member events, white papers, research and open letters to government, training activities and various ad-hoc activities and events, as set up by the Executive Committee and Secretariat. Inevitably, this creates a network of business contacts and widespread opportunities to share knowledge and experiences. This is in line with LSBF's ethos of providing global networking opportunities for students of the school, as a means of further enhancing their career prospects.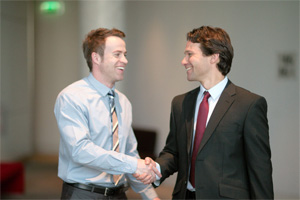 The SACC partnership will provide global networking opportunities for LSBF students.
With South Africa's dynamic business landscape ever-changing, as well as becoming more internationally focused, entrepreneurs need a strong voice to address the issues that affect them, assisted by the use of applied research. The new SACC and LSBF partnership will enable LSBF students to directly benefit from this and enhance both their studies and careers development opportunities. LSBF's regional director of West Africa, Melindi Britz, commented on the new partnership: "We are excited about the possibilities the South African Chamber of Commerce brings to LSBF. Our students will have the opportunity to explore pressing matters in Africa, focused on the improvement of bilateral trade links between the UK and South Africa."
Dr Steve Priddy, Head of LSBF's Academic Research, added: "We are delighted that SACC have chosen LSBF as its official educational and research partner.  South Africa is rapidly developing its economy and society.  Inevitably that brings challenges and tremendous opportunities.  We look forward to responding and informing its business and finance agenda with high quality, evidence based research that will contribute to SACC's thought leadership."
To learn more about the SACC, visit their official website.
---
View other sections in Press & Media