LSBF takes Global Events Series to Brazil to inspire the country's next generation
London School of Business & Finance (LSBF), in partnership with ESTABLISHBRAZIL and the British Council, hosted two skill summits in Sao Paulo and Rio. The events gathered the new generation of business minds, global business leaders, along with industry experts and journalists, to discuss how businesses and professionals can make the most of the tourism influx and economic attention brought by the 2014 World Cup and the 2016 Olympic Games.
"This is a great moment to be in Brazil". With these words, the UK's Consul General in Sao Paulo, John Doddrell, opened his speech at the LSBF Skills Summit in Sao Paulo SP which took place at the Brazilian British Centre on 24th September. The second of the Brazilian Summits was held in Rio de Janeiro on 26th September at the luxurious Caesar Park Hotel where guests enjoyed a full view of Rio's most popular beach, Ipanema.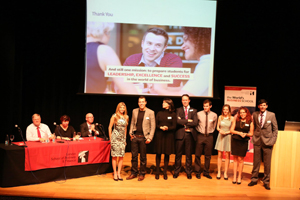 Highly-experienced Guest Speakers to Inform and Inspire
Developed to provide inspirational insights from industry experts and networking opportunities for students and young professionals, the summits are part of a series of international events which LSBF has been hosting since the beginning of the year. The events welcomed highly-experienced guest speakers who expressed the importance of education as a way to give the new generation broader cultural, social, political and economic benefits which will ultimately help Brazil's economy.
"Brazil has to prepare, not just the infrastructure, but the people with properly trained language skills. It is important that Brazilian businesses encourage young people to study abroad at schools and universities, thereby creating 'agents for change' through knowledge of other countries and cultures", said Stuart Duncan, Head of Lloyds Latin America.
With over 25 years of experience in the communications sector in Brazil as the CEO of Grupo Casa, the keynote speaker Sandra Sinicco presented her ideas on how the country could benefit from the current economic growth to create a legacy for the next generations.
"Brazil is a global leader in many sectors and the country should use its strong points for its advantage. Entire communities can be involved to benefit from the international events and prosper", said Sandra.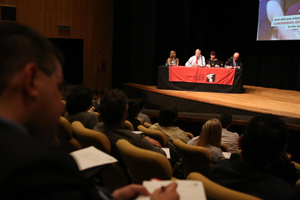 Communicating and showcasing Brazil on the international stage
With the world's 6th economy, a continental territory and a large young population, Brazil has attracted the investment of many international companies over the last years. Having first arrived in the country before the current economic boom, Stuart Duncan, Head of Loyds TSB Group for Latin America, showed the importance of communicating Brazil's positive points in a global scale.
"Brazil needs to sell its good news. There are so many great things that happen here that no one knows about. That's the reason why the new generation of professionals and business leaders need to specialise, acquire global skills and try to understand how global businesses work", continued Stuart Duncan.
A Global Network to benefit our students
It is central to LSBF's mission to help students develop networks with their peers as well as corporate partners within their own countries. The LSBF Global Events are designed to equip students with the global business skills, and networks, needed to develop their career internationally, helping students to achieve their professional ambitions. The latest summits in Brazil were part of the LSBF Global Events series, which has visited countries such as France, Italy, Greece, Ghana, Kenya and India.
---
View other sections in Press & Media