LSBF takes Global Conference Series to Ghana, Nigeria and Kenya
How can emerging countries challenge perceptions and encourage global economic growth? How are technology and education affecting the economy of developing countries? What is the importance of acquiring global business skills to achieve success in today's marketplace? Aiming to provide answers to these, and other topical questions, LSBF, in partnership with UK Trade & Investment (UKTI) and global corporate partners, hosted conferences in Ghana, Nigeria and Kenya as part of a new rolling programme.
Developed to provide inspirational insights from industry experts and networking opportunities for students, alumni and young professionals, the conferences are part of a series of international events which LSBF has been hosting since the beginning of the year. Countries visited by LSBF so far include Greece, France, India and Italy. The next scheduled events of this series will be hosted in South America.
Ghana: Global Skills for the Future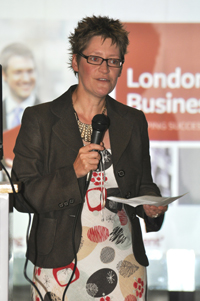 Hosted at the British High Commission in Accra, LSBF's first event in Ghana was attended by executives from international financial institutions, business leaders from companies such as Tullow Oil, GIPC and World Bank, corporate partners as well as LSBF students and alumni.
Opening the conference, Deputy High Commissioner Caron Roshler, shared her own professional background and how her past experiences helped her to develop skills to work in a global marketplace.
Work experience is key for future employability in today's job market, and keynote speaker Benjamin Dubrah, Managing Director of Barclays Ghana, shared the importance of mixing education with work experience, explaining how the two elements are an important platform for young professionals to build their career on.
Nigeria: Global Skills Summit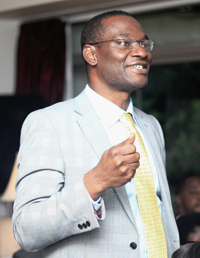 Over 100 people attended the LSBF Global Skills Summit at the British High Commissioner's residence in Lagos on 27th June. The first speaker, Adebayo Osolake from J.P. Morgan, advised on what he felt were the three key skills needed by individuals to develop their careers: honesty, integrity and persistency. Being a Cambridge graduate, Mr Osolake also spoke about his experience as a student in the UK and about the challenges he faced, and overcame to succeed in his career.
Meanwhile Esan Ogunleye told the group about the increase in women in senior roles and the shattering of the glass ceiling. During his insight on women in business that, "many women have been excelling in areas like banking. A number of managing directors of banks and other financial institutions today are women".
"There are indications that a positive revolution is going on quietly and with a little doggedness and determination, women will succeed in any business."
Kenya: New Options for the Future
Continuing the series of events in Africa, on Friday (29th June) LSBF hosted the third event of the week, at the British High Commission in Nairobi. Influential leaders such as Adan Mohamed, Managing Director of Barclays Bank of Kenya delivered insightful talks and helpful advice for young business leaders.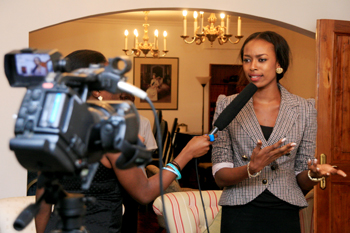 The series of events has been a huge success, with all conferences oversubscribed. Due to the high level of interest, and for those who can't join the conferences, LSBF is sharing the knowledge even further by hosting live online discussions about the topics covered by each event. To join, follow #LSBFGlobalTalk on Twitter or access our interactive and live Hangout Sessions on Google Plus.
A Global Network to benefit our students
With campuses and international offices across five continents and students from over 150 nationalities, LSBF works hard to help students develop networks with their peers as well as corporate partners within their own countries. The networking events are designed to equip students with the global business skills, and networks, needed to develop their career internationally, helping students to achieve their professional ambitions. Over the coming months, LSBF will be hosting a series of international events, open to current and potential students as well as LSBF Alumni in South America.
Reflecting on the series of international events, LSBF's Executive Dean of Business School, Dr. Ann Throne said: "At LSBF, we encourage students to get involved in networking activities as early as possible. With the current job market, schools should enable students to have the opportunity to meet business leaders, and not only learn from them but share their personal experience as future business experts. These networking events will give our students a competitive advantage when they go on to the working world, as they will have started developing relationships with important leaders from an early stage."
---
View other sections in Press & Media