LSBF hosts entrepreneurship workshop and welcomes students from Russia
Earlier this week young entrepreneurs from the St Petersburg State University of Economics and Finance (FINEC) visited London School of Business and Finance (LSBF) at its New Court Campus in London. "Entrepreneurship: Starting from Zero Point", a project founded by FINEC and supported by Russia's Sberbank, was the theme of the workshop and students from both academic institutions were invited to share their insights about the benefits of the project and suggest tips for its future implementation.
As a school at the forefront of education, LSBF has set global student development as one of its main goals. The workshop with FINEC, which is a leading university in Russia, provided students with opportunities to network and share their entrepreneurial experience with the next generation of business leaders.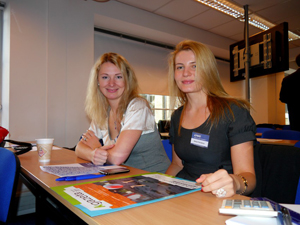 Current LSBF students and future business leaders share their entrepreneurial experience.
Nadim Choudhury, Head of Career Services and Employability at LSBF, hosted a discussion on entrepreneurship and how to take the first steps in today's competitive market. Speaking at the event, he said: "LSBF has always been a great supporter of entrepreneurship. We have so much business talent at the school and, in order to nurture it, it's crucial to give our students the correct opportunities and platforms, which are essential for the global development of their careers. The workshop today was a fine example of this as it brought together business minds from different sides of the world to discuss and share their entrepreneurial experiences. Our students can now take the knowledge they've learnt and not only apply it to their studies, but also their future career plans."
LSBF ACCA student, Heather Mukamba, added: "This event today was very eye-opening and I've learnt many different tips that I can take forward with me. Some useful advice was that you don't necessarily have to have the most outrageous ideas for starting a business; it's actually the simple everyday things in life that can provide you with inspiration. For instance, one of the students said that simply by looking at your own body and the processes it goes through everyday can give you new business ideas, which I found extremely insightful and inspiring."
The workshop was in line with LSBF's ethos of providing networking opportunities for its students and immersing them into the world of business.
---
View other sections in Press & Media