LSBF celebrates students' achievements at the 2012 Celebration
Students from LSBF's undergraduate and postgraduate programmes celebrated their academic achievements Friday 28th September at this year's Celebration of Achievement ceremony, held at the Grand Connaught Rooms, in Central London. The event, which was attended by LSBF academic faculty and members of senior management, celebrated the programme completion by graduates from BIB, MBA, MIB, MSc Finance and MSc Marketing Programmes.

The new LSBF graduates celebrating their achievement
LSBF Faculty congratulates LSBF students
Delivering the keynote speech at the celebration, LSBF Academic Dean, Roy Butcher, said: "As a member of faculty, I'm well aware of the hard work, concentration and commitment that has been required from you to achieve this graduation status. As an employer I'm also well aware of the value of this achievement to your future careers. I would like to thank all graduates for your contribution to the life at London School of Business and Finance. I sincerely hope that this contribution will not end at this stage and that you will take an active part in the alumni association and events and perhaps even return to us as a guest speaker. I offer you my very best wishes for the future."
Delivering the closing speech at the ceremony, Professor Alfred Morris, Chairman of the Board of Governance, congratulated students not just on the success in completing their studies, but also on choosing LSBF. He said: "LSBF Graduates are now dual citizens of London and the world. They are the Olympic finalists and future gold medal winners of global business".
Congratulating students on their success and for becoming part of the LSBF Alumni body, Vice-Rector and Director of the Business School, Prof James Kirkbride, concluded: "I think this is one of the most enjoyable times of the year. The best part is that you can see how much everyone has grown. They've grown individually and as a community. LSBF students can take away with them the fact that they can engage well with a wide variety of different cultures and I think this will help separate them from students from other institutions."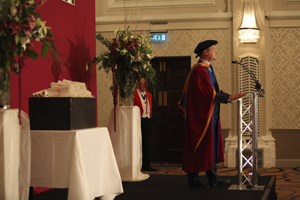 Prof James Kirkbride congratulating students on their success.
Student and academic team pride
Showing pride for their achievement, students from all courses were immersed in the celebratory atmosphere of the event. MBA Graduate Nadia Khan said: "I have been waiting for this day for so long and I'm so happy it's finally here. I really enjoyed studying at LSBF as the education quality was amazing. I want to thank all of my lecturers, especially in the last semester, as they were so co-operative and supportive."
The Student Association President and MSc Finance Graduate, Alawol Ahamed, added: "Being the President of the Student Association was a truly great experience, as I had the chance to meet and represent such a diverse student body from a variety of different cultures and backgrounds. That's what's great about LSBF, it really is the world's business school and as such I would recommend it to all students from around the world who want to enhance their international career prospects. There's no better place to do so than in the heart of London".
Following the ceremony, graduates and guests were invited to attend a champagne reception, where they mixed with faculty and staff for the chance to toast to and commemorate a very special occasion.
---
View other sections in Press & Media