LSBF hosts Islamic Finance Seminar with key industry players
With annual growth rates of over 20%, the Islamic Finance and Banking industry has been increasing worldwide and has established itself as part of the mainstream market over the last few years. As a school on the forefront of the global trends in business and finance markets, London School of Business and Finance recently organized (14th March) an open seminar "The Potential of Islamic Finance", which discussed current trends and future direction for one of the fastest growing financial sectors worldwide.
Hosted at LSBF's Holborn campus in central London, the seminar attracted key industry guest speakers including Lord Sheikh, member of the House of Lords and Chairman and Director of Iqra Ethical, Waheed Qaiser, President at Maxim and one of the industry's pioneers, and Samir Alamad, Senior Manager at Islamic Bank of Britain who came together to compare and contrast conventional and Islamic finance.
Speaking of the potential of the Islamic Finance in the global market, Lord Sheikh said: "Islamic Finance should not remain as a niche market. It can appeal to anyone and become part of the mainstream market. The sector was largely unaffected by the economic downturn and has actually increased during the last financial crisis."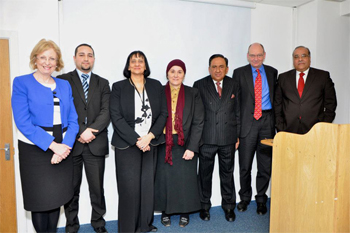 As the chairman of a large number of institutions, groups and unions, Lord Sheikh is considered one of the pioneers in the Islamic Banking market in the UK. "I would like to see more youngsters to be encouraged to work with Islamic Finance. I believe in the industry and I will continue to promote it in the UK and worldwide", said Lord Sheikh.
As an institution always focussed on global market trends and developments, LSBF offers a Masters in Islamic Finance and Banking which aims to respond to the growing interest and to offer practical insight into the sector. With more than 300 institutions across the world, the Islamic Finance market has attracted the interest and become a fertile area for professionals from all backgrounds.
Opening the event, Ann Thorne, Executive Dean of the Business School at LSBF, said: "We are really happy to host events of this kind at LSBF. Over the last years, a steady increase in Islamic financial services, particularly in non-Islamic countries, has generated growth in demand for specialists in the field. As a dynamic and fast-growing school, we aim to always deliver programmes that reflect global trends and to prepare our student with in-depth knowledge in the most diverse areas of business and finance."
To learn more about the MSc in Islamic Finance and Banking offered by LSBF, visit:
http://bit.ly/wyiIsN
---
View other sections in Press & Media