Promoting business thinking: LSBF hosts weekly online Business Challenge
As part of LSBF's ethos of promoting creativity and business thinking globally, the school last week launched the new online competition LSBF Business Challenge. The contest, which will see LSBF share online a new and interactive business case study every week, will be open to anyone around the world and will award the winner with business-related books. Being the destination of choice for students from over 150 nationalities, the challenge is in line with LSBF's continued global approach to business and finance.
Rewarding creative business insights
To enter the contest, participants will have to put their business minds to the test by solving the case study and submitting their answers on the YouTube video. In order to ensure the answers provided are informed and to a good standard, supporting material will be provided by LSBF to aid participants in creating their solutions. The contestant with the best answer will win a business-related book of their choice from a selected set of options, including best-selling titles such as Lord Sugar's "What You See Is What You Get".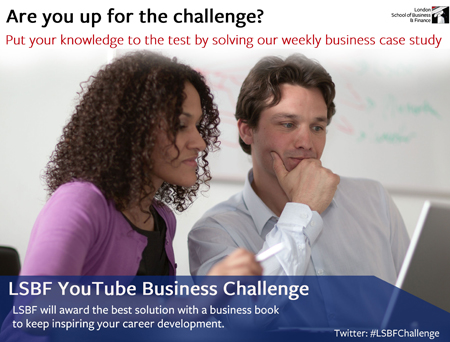 Currently in its second week, the contest is already showing signs of popularity amongst students worldwide. In the first week, the challenge focussed on Microsoft's dividend policy and was won by James Turner from Huddersfield. Upon hearing the news of his win, Turner said he was absolutely "thrilled" and chose a "Competitive Strategy" book for his prize, which he said would be extremely useful in helping him to differentiate between key business terminologies. The second week of the challenge is focussed on LEGO's product management, with the winner being decided on Monday 16th July and each Monday thereafter.
Establishing global connections
By opening the competition up worldwide, participants can acquire a global spectrum of knowledge from different people around the globe, as well as establish new business connections, which is essential in today's network-driven industry.
Winners of the contest are selected by LSBF lecturers who review all submitted answers, before making an informed decision. Associate lecturer Dave Coker, who selected James Turner as week one's winner, said: "It's great to see LSBF engaging in this way with students of the school, as well as all those with an interest in business in general, irrespective of their location or job profession. It's a testament to the school's commitment in guiding and developing its students both inside and outside of the classroom."
To keep up-to-date with the weekly contests, view LSBF's Global MBA YouTube channel .
---
View other sections in Press & Media