LSBF Student Entrepreneur Making his Mark in the World of start-ups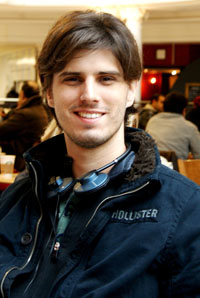 The 24-year-old entrepreneur is studying ACCA at LSBF
As a global institution that is the destination of choice for some of the best international scholars, London School of Business and Finance (LSBF) is already a hot bed for some of the most promising future business leaders.
Rafael Laky, a 24-year old Brazilian student, is just one of the young entrepreneurs who have chosen to study at LSBF. As if studying hard for his ACCA exams alongside his Bachelor Degree in Applied Accounting isn't enough, he's also investing any small amount of spare time he has left on his start-up TwitInvest, a social network focused on gather Brazilian students and professionals who work in, or are interested in, the financial markets.
LSBF caught up with Rafael this week where he shared with us his business insights and top tips for success as a young student and entrepreneur.
We started by asking him why he created TwitInvest?
Rafael Laky: I've been investing in the Brazilian stock and future markets (BMF&BOVESPA) since the crash of 2008. I realised that getting the right information at the right time wasn't an easy thing. I had to be constantly visiting many websites to get all information I needed, and, very frequently, I felt that I needed to talk about the markets with other investors. I wanted to know what they are thinking, and I couldn't. I also wanted to create a place where big companies can be closer to their investors, and I want to bring the Investors Relationship (IR) of these companies to be participating in the community.
So, essentially, I spotted a gap in something I was interested and involved in, and developed something that I thought would help that. This is TwitInvest, a social network for investors and for those who want to learn about it.
LSBF: What past experience do you have?
RL: I've been a trader in the Brazilian stock market since 2008 and I've had work experiences in a few non-financial-related jobs while I was studying engineering. If you understand the market or field you're working in, you're more likely to come across something that sparks your imagination, or spot a gap in the market that you may want to fill.
LSBF: What was the biggest challenge you've faced when setting up TwitInvest?
RL: It's a continuous learning curve. The business is still quite young, there are always new challenges but, I'm learning from all of them. I believe the biggest challenge – and I guess this is the same of all start-ups - is the lack of financial resources to progress and develop projects.
The biggest lesson I've learned so far is to be confident about, and believe in my ideas and share them with people who share that vision and who could potentially help me drive the project further.
LSBF: What are your plans for the TwitInvest over the next 6-12 months?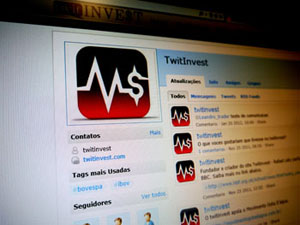 TwitInvest has already partnerships with important players in the stock market
RL: We are setting an important partnership with one of Brazil's biggest stocks and futures brokerage, Um Investimentos. With this significant agreement, we'll be able to sell financial products for all our members on the website, even for foreign members willing to invest in Brazil. We are also planning to start operating in the UK very soon.
LSBF: As a young entrepreneur, what keeps you awake at night?
RL: Well, at the moment, I'm pretty worried about my ACCA exams! But I'm making sure I set aside enough time to study, so that I'm prepared, and so that I can be confident of passing.
LSBF: How have you, or TwitInvest, changed since you started the venture?
RL: It started with a simple idea that has developed into a much bigger project - and very fast. The opportunities are great, but it also means I now have lots of new projects to implement at TwitInvest and many partnerships to make.
LSBF: Looking back, what key skill or experience did you lack when you started, and how did you tackle it?
RL: Ironically, I still know very little about programming so I am constantly studying to find the right solutions that I need. The downside of this is that it means I sometimes I have to hire someone with the expertise to help me.
LSBF: Do you have a motto or phrase that inspires you?
RL: "The only place that success comes before work is in the dictionary"
LSBF: Who is your biggest inspiration?
RL: One of my biggest inspirations is Pedro Moura Costa, a Brazilian entrepreneur involved in environmental finance with a focus on the international efforts for greenhouse gas (GHG) emission reductions. He was also the first Brazilian to be awarded the Nobel Peace Prize in 2007.
I also admire the work of other businessmen such as George Soros, Richard Branson, Warren Buffet and the rock climber Alex Honnold.
LSBF: What do you want to be remembered for?
RL: I want to help the environment in any way I can. One of my biggest aims with TwitInvest is not just to create a place for investors to share ideas but also a place that supports environmentally aware companies.
To see this vision through, TwitInvest has to be more than just a website with the purpose of making profit. It has to be an idea that grows inside of all the members – does he mean it has to be an idea that captures all the sites members, an idea they truly believe in. The world needs companies that care about the environment and the future of the planet and these companies need investors that believe that they can be profitable. What I intend to do is to make sure that these companies will get what they need and, at the same time, investors will see that these companies are sustainable and profitable in the long term.
To learn more about Twitinvest, visit: http://www.twitinvest.com/
---
View other sections in Press & Media