Award Winning Comedian and TV Presenter Jo Brand Shoots BBC4 TV Show at LSBF Campus
BAFTA winner British comedian Jo Brand this week visited LSBF's Marble Arch campus to film LSBF students for a new TV programme to be broadcast on BBC4. Accompanied by her TV production team and the celebrity psychologist Judi James, Jo spoke to a group of students from ACCA, MBA and MIB programmes about social behaviour in the business environment.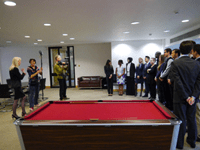 Judi James, who is one of the UK's leading behaviour experts and has presented her own body language series on Channel 5, explained to Jo and LSBF students the key secrets of body language for business situations such as networking events, work interviews, business meetings and presentations. While Judi spoke, Jo Brand guaranteed the fun by putting the techniques into practice with our students.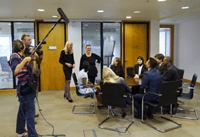 «I really enjoyed the opportunity of being in the programme. Judi's tips were really valuable and Jo Brand is a fantastic comedian. I had a great time», said Rafael Laky, who studies at LSBF on the ACCA programme.
Fabio Gallego, student of the MBA course said: «The 15-minutes of fame I had with Jo Brand and her team was really cool and I'll surely try to put the advices I had from Judi into practice.»
Jo and her crew are filming the show at many cities around the UK. The programme, called «Kiss Me Quick», is scheduled to be broadcasted next February on Valentine's Day on BBC4 (in the UK)
---
View other sections in Press & Media