Rt Hon David Blunkett MP delivers inspirational lecture at LSBF
Continuing its goal to give its students access to influential thought leaders, London School of Business and Finance (LSBF) held a special guest lecture, featuring former UK Home and Education Secretary, the Rt Hon David Blunkett, MP.
LSBF's commitment to provide its students and the general public with access to high profile and influential speakers from across industry, fashion, education and politics, ensured a full capacity audience.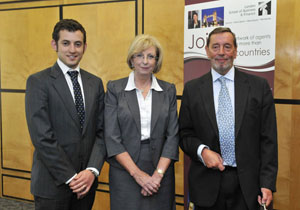 Mr Blunkett's lecture, delivered at LSBF's Marble Arch campus, focused on the key aspects of leadership, and the qualities needed to be an effective leader in both business and in politics. "What do you need to be a leader? You need people to lead," Mr Blunkett began.
"Leadership isn't about wilting violets, nor is leadership about those are who are afraid to take risks. It is not just how to manage, but how to lead, and we look to develop these qualities in those around us. I think you can be a leader, without actually being a good manager," he said. "But you can't be a really good manager, without being a leader."
"Leadership qualities involve so many elements, sometimes contradictory. Some great leaders historically have been charismatic, but they have also been bullies, and they've been good at the leadership, whilst the qualities they've required elsewhere have been lacking."
Mr Blunkett also talked about some of challenges that leaders face when it comes to admitting weakness. "Many of the great leaders of the world have shown great insecurity in their own personal lives, and with their relationships with others. I know this very well in politics, but you're not allowed to show your weaknesses."
"If I'd have revealed to those around me about some of the major decisions I was about to take; I don't think my political career would have lasted very long. So sometimes you have to be extremely wary about revealing your weaknesses to those who may use your weaknesses against you, while at the same time being able to recognise them yourself; because if you don't, there's no way you're going to be able to lead others."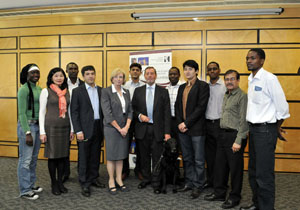 Mr Blunkett ended with a word on some of the inspirational leaders he had been fortunate to spend time with, including Nelson Mandela, Tony Blair and Bill and Hilary Clinton. Recalling his meetings with Mandela, he emphasised the importance of knowing what you want as a leader, and having the confidence, character and charisma to execute it.
"I've had the privilege of meeting Nelson Mandela three times, and on each occasion, including the latter time when he was extremely frail, I've been overwhelmed by both his calmness and his certainty about what had happened in his life, had almost been preordained."
"If you think of those three decades that he spent on Robben Island, and the belief that what he stood for was greater than his own safety; he stood for being able to unite a nation in freedom. Freedom from Apartheid, but also freedom from reverse bigotry and from people taking their revenge and getting their own back; that is a remarkable piece of leadership."
"I believe he [Mandela] is the greatest living person that I've come across in my lifetime." Mr Blunkett concluded.
The lecture was attended by LSBF students and staff, with Mr Blunkett's appearance being well received by all. Commenting on the lecture, LSBF MBA student Stephen Das said: "It was great to hear from a MP that a leader has weaknesses too. As Mr Blunkett stressed, we always have to be willing to listen to other people, to analyse the situation and overcome the problem."
"The lecturer was very inspirational. He is a living proof that we can never give up. This is one of my philosophies. I am 50 years old and I came from India just to do my MBA".
Mr Blunkett's lecture marked the start of an exciting new programme of visiting lecturers to LSBF, giving both students and members of the public the opportunity to hear high profile speakers from across different industries and sectors.
With a parliamentary career spanning four decades, Mr Blunkett was a key member of Tony Blair's cabinet for more than eight years, serving as Secretary of State for Education and Employment, and latterly as Home Secretary.
A video of Mr Blunkett's leadership lecture will be made available to view on our website over the coming days.
---
View other sections in Press & Media