eBay masterclass inspires innovation
"If you are in a business, your consumers expect you to be creative and innovative. But if you are in the fashion technology business, they expect much more". This is how Miriam Lahage, European General Manager of Fashion at eBay, summarised what it takes to direct a fashion business successfully, as she guest lectured at an LSBF-SFD masterclass. Held in the luxurious Westbury Hotel in Mayfair, the fashion hub of London, the masterclass focused on how social media and online technology has evolved the fashion industry.
Journalists, bloggers, students and fashion entrepreneurs were among those attending the lecture.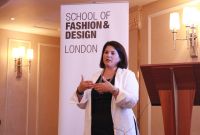 The London School of Business and Finance has partnered with School of Fashion & Design London to give students and entrepreneurs the chance to learn more about the fashion business from one of the foremost experts – Ms. Miriam Lahage. Ms Lahage was the second fashion expert to give a joint LSBF-SFD masterclass, after the Sir Paul Smith's masterclass to students on May 4th.
Heading up eBay's fashion division since last year, and working in the retail space for the past 25 years, Ms Lahage said two of the most important things in this industry is to invest in inspiring content and to innovate well before the competition.
In a business where technology is a key point, Ms Lahage explained it is crucial that businesses think forward and keep up-to-date with the market trends. As examples of opportunities offered by technology, she cited mobile and e-commerce. "One in four consumers has made a purchase via mobile platforms in 2010", she commented. "With e-commerce, fashion seasons overlap each other. Today, we are able to sell a whole collection from much earlier until much later."
Learn more about LSBF's programmes.
---
View other sections in Press & Media