Why is Business Administration a Good Undergraduate Degree for Students?

A degree in business administration is a sought-after qualification that can open many opportunities within the corporate sector. This undergraduate business degree, which offers almost endless career potential, is suited to ambitious individuals looking to take their career to the next level.
To allow businesses to fulfil their potential, company owners must be on the constant lookout for experts who can manage their day-to-day business affairs. So, how can pursuing a business administration course in London enable you to make a significant impact at multinational corporations, or even show you the pathway to becoming an entrepreneur?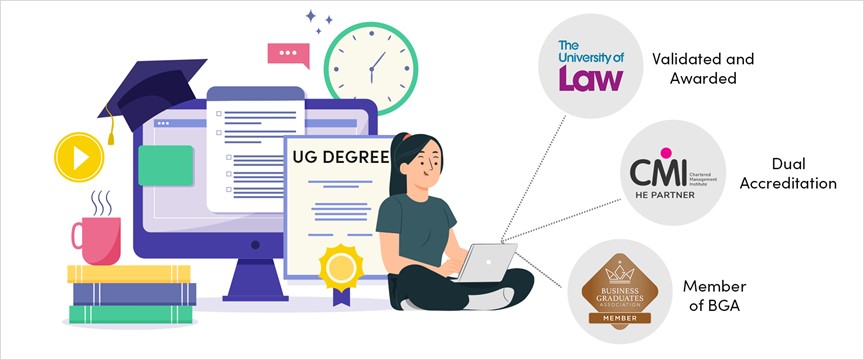 What is a Business Administration Degree?
Business administration course modules are typically structured to include a wide range of fundamental topics such as economics, finance, business research and general company operations. By the time you have completed a BSc Hons business administration degree, you will be eligible to take up job roles that involve overseeing and supervising business activities of global corporate companies.
Upon graduation, finding a job should be easy as well. As a business administrator, you can find responsibilities suited to your skills and interests in a variety of sectors such as manufacturing industries, non-profit organisations, transportation agencies, distribution centres, hospitality services, real estate firms and government entities.
Why Study a Business Administration Degree?
The benefits of studying a business management degree include the possibility of landing high-paying jobs, in addition to acquiring industry-friendly skills such as the ability to lead and motivate people, think critically and communicate effectively. There are many advantages that a business administration degree can provide students to allow them to achieve their career goals.
Various career opportunities
Studying business administration in London will allow you to develop the professional skills required to manage the financial affairs of a company. This can enhance your employability as well as transform you into a strong candidate who is qualified to take up managerial positions.
High salary packages
By the time you have completed the business administration course offered in the UK, you will become a good team player, who is eligible to fulfil the responsibilities of high-end roles. Your talents will make you an asset to international employers, enabling you to climb up the corporate ladder and gain higher salaries.
Build your business network
Networking is one of the finest advantages that studying a business administration degree offers, giving you the opportunity to gain one-on-one suggestions from eminent professionals within the industry. You also have the opportunity to discuss career opportunities with your mentor and find suitable positions to work as a business expert.
Career growth
Obtaining a business administration degree from London can set you up for a variety of good career paths by helping you develop a great sense of duty. Becoming well-rounded in the vital aspects of the administrative department within an organisation can help increase your credibility, making you appear more knowledgeable to investors who may want to secure financial investments under your guidance.
Leadership skills
Our undergraduate business administration programme has been developed to help students sharpen their leadership abilities to become distinguished in the international marketplace. Developing essential management skills can enable you to become proficient at developing formal business plans and effectively negotiating with clients.
Key administration techniques
Besides gaining an introduction to the business industry, a business administration course will provide you with detailed insights into different professional sectors and will teach you how to deploy administrative strategies, whenever required. You can become as proficient as any other expert in the field, without possessing any prior work experience in management.
Become an entrepreneur
Opting for a business administration undergraduate programme in the UK will give you the opportunity to apply what you have learnt in the classroom to your day-to-day life. The solid business foundation gained throughout the course curriculum can take you a step closer to turning your entrepreneurial dreams into reality.
Project management skills
Business administration courses provide international candidates with the option to acquire both hard and soft skills, with an emphasis on project management techniques such as presenting, problem-solving and corporate reporting. This is a versatile professional skill that can help you become a well-rounded manager in any sector from consultancy, supply chain and finance to human resources.
What Can I Do With a Business Administration Degree?
A business administration degree is a perfect gateway to preparing for a career in business and acquiring the skills that can be applied to any industry. Besides getting a solid grounding of knowledge in everyday business functions, you will be able to demonstrate in-demand skills on how modern day organisations should operate.
The following pointers will give you detailed information about the typical job roles related to a business administration course.
| | | |
| --- | --- | --- |
| S.no | Business Administration Jobs UK | Average Annual Salary |
| 1 | Business Consultant | £39,793 |
| 2 | Sales Manager | £44,385 |
| 3 | Financial Analyst | £34,121 |
| 4 | Loan Officer | £21,955 |
| 5 | Market research analyst | £25,113 |
| 6 | Auditor | £28,679 |
Business Consultant
Average annual salary: £39,793
Responsibilities
Strategies to help a company make more profits

Make strategic business decisions

Promoting business services
Sales Manager
Average annual salary: £44,385
Responsibilities
Creating strategies to meet quarterly goals

Developing business plans

Arranging frequent training for team members

Generating leads by coordinating with the marketing division

Tracking the sales of individual employees
 Financial Analyst
 Average annual salary: £34,121
 Responsibilities
Estimating profit margins and budgeting for advertising campaigns

Assisting clients in understanding their investment options

Brainstorm and analyse profit-making ideas
Loan Officer
Average annual salary: £21,955
Responsibilities
Approving all loan-related transactions

Analysing the financial status of loan applicants

Verifying and approving loan applications for both organisations and individuals
 Market research analyst
 Average annual salary: £25,113
 Responsibilities
Coordinating marketing strategies

Creating questionnaires and surveys to analyse market trends

Assist companies to meet customer demands at all times

Facilitate branding to generate interest among the audience
Auditor
Average annual salary: £28,679
Responsibilities
Check the company's finance to determine financial fraud or misappropriation

Correct financial mistakes and errors made by the company management

Ensure that all financial transactions comply with the international legislation
Completing a business administration degree from the UK can allow you to gain access to internationally recognised, high-quality professional education that recruiters belonging to successful organisations are looking for. The Bachelor of Science in Business Administration (Honours) degree offered at the London School of Business and Finance (LSBF) is designed to help you reflect on the current issues within the international business platform.
Check out LSBF's website and find out why you should choose to study with us today. You can also sign up to our newsletter to stay updated with our latest news and offerings.
---
Other news from Online Learning
Discover the game-changing impact of blockchain on accounting. Learn about its benefits, workings, and real-world use cases in this insightful…
Discover which certification is right for your career goals! Learn the differences between ACCA and CA courses to make an…
Explore job prospects in the UK for public health graduates. Learn about salaries, importance of public health roles, and how…