LSBF Online holds successful Open Day Webinar about e-learning
London, 13 April 2018 – London School of Business and Finance (LSBF) Online held the Online Programme Open Day Webinar - 'Explore LSBF' - on 11 April, introducing the audience to the LSBF's e-learning platform and methods of teaching.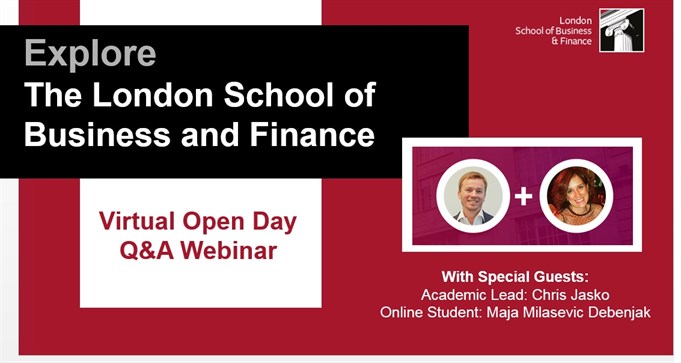 The webinar was hosted by Chris Jasko, Academic Leader at LSBF Online, and accountancy student Maja Debenjak. The event's aim was to explain LSBF's history and reputation, the benefits of distance learning, and the range of courses available at LSBF Online.
The informative initiative was the first of its kind launched by LSBF Online and an occasion to display the unique learning experience provided by the institution, including student support and guidance. More than 150 viewers accessed the webinar, connecting from 45 different countries across the globe, helping make the event a great success.
Mr Jasko commented: "The Open Day Webinar is one of our latest innovations through which we are aiming to deliver all possible support and information to prospective students.
"This format is a great opportunity for students worldwide to build a deeper understanding of how LSBF Online works and discover the benefits of distance learning."
During the webinar, a virtual tour of LSBF Online's learning platform was provided to demonstrate how the online learning process is organised. Viewers were also advised on how to select the right programme and prepare a successful application.
The audience received tips from current students, who shared their experience in studying with LSBF. They were also able to interact with the speakers, asking questions and posting comments for the expert panel throughout a live Q&A session, receiving real time feedback from lecturers.
LSBF Online has been offering professional accounting courses and qualifications since 2008, and is always pioneering new ways to provide quality education through the latest technologies. In December 2017, a Facebook Live AAT Webinar highlighting the key aspects of the qualification was watched by almost 2,000 viewers.
About London School of Business and Finance (LSBF) Online
LSBF Online is the digital branch of London School of Business and Finance (LSBF), a global provider of professional & executive courses alongside postgraduate degrees. LSBF Online offers accountancy qualifications (ACCA and AAT) as well as master's degrees and online short courses.
It offers three key features: personalisation, flexibility, and access. This means that students can tailor their studies to their interests and fit learning around their schedule, no matter where they are in the world.
Since its beginnings in 2008, LSBF Online has gone from strength to strength and has recently been recognised as an ACCA Gold Approved Learning Partner.
---
View other sections in Press & Media