LSBF Secures ACCA Gold Approved Learning Partner Status for Online ACCA Programmes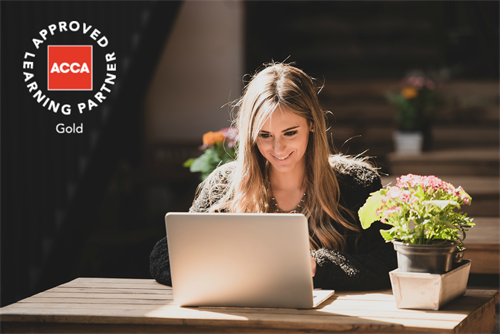 London, 19 May 2017 – London School of Business and Finance (LSBF) today announced that it has secured Gold Approved Learning Partner status from the Association of Chartered Certified Accountants (ACCA) for its online ACCA programmes. The prestigious accreditation will apply to ACCA online courses, provided by LSBF's Professional School and delivered through an e-learning platform developed by InterActive.
In order to be awarded with the title, LSBF had to meet 12 performance targets set by the global professional accounting body, ACCA. The indicators looked at various aspects of LSBF's teaching and learning, looking at delivery standards and student's experiences. These included promotional material, programmes of study, course reviews and implementations, tutors and facilities, mock examinations and student feedback.
Vitaly Klopot, interim Commercial Director at LSBF Professional School and Chief Operating Officer at InterActive, commented on this important achievement. "This accreditation has been our objective since 2011, and we have been working hard to improve the delivery of the programme and the overall student experience to meet ACCA's high standards. We have always provided first class ACCA online tuition, and now our students can rely even more on the quality of our teaching and services."
With award winning programmes and lecturers, LSBF offers students a wide range of solutions to acquiring qualifications and improving their careers. The Gold Approved Learning Partner accreditation strengthens LSBF's position as an ACCA provider, and increases the visibility of the institution. LSBF will now be listed in the ACCA Tuition Provider Directory and the student planner app, and will gain access to additional features, such as the online education hub and the learning provider e-magazine.
About London School of Business and Finance (LSBF)
London School of Business and Finance (LSBF) is a global provider of professional, executive, vocational and higher education. With campuses in the UK and internationally, LSBF offers industry-relevant programmes that are tailored to the career goals of today's students and professionals.
Under the royal patronage of Prince Michael of Kent, LSBF has a powerful e-learning platform and over 130 programmes, covering industries from fashion to finance. LSBF is also a Queen's Awards for Enterprise winner, one of the highest business accolades in the United Kingdom.
To learn more about the LSBF Online ACCA programmes, click here.  
---
View other sections in Press & Media