LSBF in Singapore customer satisfaction exceeds sector average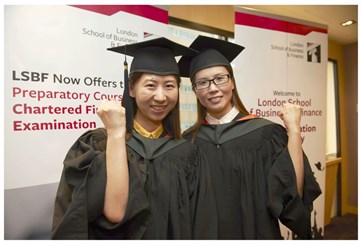 As a centre of education excellence, LSBF strives to provide students with first-class experience and academic development. Reflecting those efforts, LSBF in Singapore received a score of 77.8 in the latest Customer Satisfaction Index of Singapore (CSISG) survey. The figure is well above the private education average of 66.3 and also exceeds the overall average customer satisfaction across all universities in Singapore, which received a score of 73.5.
The CSISG report, which is produced annually by the Singapore Management University's Institute of Service Excellence, is a landmark measure of customer satisfaction cutting across sectors and sub-sectors in the services industry of Singapore.
"The CSISG results are a demonstration of our dedication to student experience, academic and professional development. Since we opened our doors, we have focused on building a first-class academic team with some of the most experienced lecturers in the country. We are extremely proud to present figures that a re higher than the national average in both the public and private sectors. We are confident that we will keep improving in the coming years", said Rathakrishnan Govind, Managing Director at LSBF in Singapore.
According to Mr Govind, to achieve this score, LSBF in Singapore has established many internal excellence initiatives across the institution, including a committee to uphold the standards for stakeholder service, employee long service awards, and an automated voice system for round-the-clock student enquiries.
Having taught over 10,000 students since opening its doors, LSBF in Singapore prides itself for its relatively short but already very successful operations, with plenty of achievements along the way. Since 2011, a total of 75 LSBF students to become ACCA Prize Winners, an award only given to the best performi ng ACCA exam-takers. As well as receiving the 4 Year EduTrust Status by the Council for Private Education (CPE), the school was also awarded with the Platinum Approved Learning Partner Status by the Association of Chartered Certified Accountants (ACCA).
"Our success is down to the focus on providing our students with the highest possible level of academic experience, plus the best administrative support that we possibly can – and always looking to make it even better", concluded Mr Govind.
New university partners announced
Adding to this excellent start to the year for the school, in the first week of 2015, LSBF in Singapore welcomed three universities from Australia and New Zealand as new partners. Teesside University and LSBF in Singapore now offer an MSc in Accounting & Finance for ACCA affiliates and members to study, with an exemption of up to 70 credits.
With both the University of Canterbury and University of Southern Queensland now on board as affiliate partners, the school offers better education pathway in business studies and accounting & finance.
Students who complete the selected LSBF diplomas programmes will also be granted credit exemptions to study select degree programmes at these universities.
(Information dated January 2015)
---
View other sections in Press & Media