LSBF Great Minds Live: strong relationships with clients is key to global success, says Baker & McKenzie partner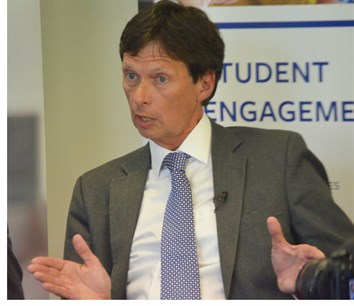 The key to a firm's international success is strong client relationships, believes Robert West, Partner at multinational law firm Baker & McKenzie.
Speaking earlier this month to an audience of law students for London School of Business and Finance's (LSBF) Great Minds Live series, Mr West said: "We follow our clients around the world, practicing local law in different cities. We deliver services to clients on a global basis."
Founded in Chicago in 1949, law firm Baker & McKenzie was created with global leadership ambitions and has largely grown organically. The firm now has 77 offices in nearly 50 countries. Its London office, established in 1961, is the firm's largest.
Reflecting on Baker & McKenzie's widespread global progression, Mr West said: "No other law firm is as broadly spread geographically as we are. We have a very global organisation, with 11,000 people worldwide. Our strength in English law, which is still the most important legal system for international business, is one of the reasons we've been able to grow as much as we have."
Robert West has been part of Baker & McKenzie for the past 30 years. During his career he has consulted with the UK government on developments in the pensions sector of law and helped the company to adapt to the ever-changing legal world not just in the UK, but worldwide.
Speaking on challenges the firm has faced due to its global position, Mr West commented: "Of course there are more challenges as you grow. You have to have a clear common set of core standards that govern how every part of the firm delivers its service to clients. For us, those standards are very high. We can never compromise on that."
The firm has grown from its Chicago origins, as a base for people from the US setting up internationally after World War II, into the multinational organisation it is today.  "It is very important that we have top quality local lawyers, as well as our own staff and partners, in all of our offices", he added.
Reflecting on gender representation in the workplace, Mr West called on the profession to continue to emphasise this. He noted that while companies such as Baker & McKenzie have been working hard to tackle gender inequality, the entire sector must do more in order to achieve real change.
"Historically there is no doubt that the profession was slow to adapt to a career development structure that benefitted female lawyers as well as male lawyers. That is changing now but the profession can still do more," he said, adding that at his firm intakes for trainees are equal in terms of male and female recruits. Baker & McKenzie was the first major international law firm to have a female leader when it appointed Christine Lagarde "Madame Chairman" in 1999.
Mr West spoke at LSBF Great Minds Live, an interactive event where students have the unique opportunity to listen to, and discuss with, well known business and political leaders on a range of topics including education, careers, business and entrepreneurship.
LSBF Great Minds Series
As well as offering programmes dedicated to fostering leadership skills, LSBF also endeavours to provide students with insight and inspiration through a number of innovative resources. One of these initiatives is the LSBF Great Minds Series: a collection of video interviews with leading business and political leaders promoting debate on education, employability, entrepreneurship and the economy.
The video series started in 2011 with a conversation with former British Prime Minister Tony Blair, followed by an interview with former Education Secretary Lord Kenneth Baker. In 2012, entrepreneur Sir Richard Branson, founder and chairman of the Virgin Group said that universities worldwide should become hubs to boost entrepreneurship and inspire self-starters to develop their own businesses. In 2014, LSBF spoke to Will Butler-Adams from Brompton Bicycle, Guy Hayward-Cole from Nomura Bank International, with former British Prime Minister Sir John Major, entrepreneur and investor Deborah Meaden, Google UK sales director Kevin Mathers and BBC Worldwide CEO Tim Davie.
Kicking off 2015, LSBF hosted interviews with Andrew Miller, CEO of Guardian Media Group; Jill McDonald, CEO of McDonald's UK; Kevin Costello, CEO of Haymarket Group; Amy McPherson, CEO of Marriott Hotels Europe; veteran BAFTA-winning broadcaster Jon Snow, and, most recently, a live chat with Kevin Ellis, Managing Partner of PricewaterhouseCoopers.
---
View other sections in Press & Media