LSBF wins big at the PQ Awards 2015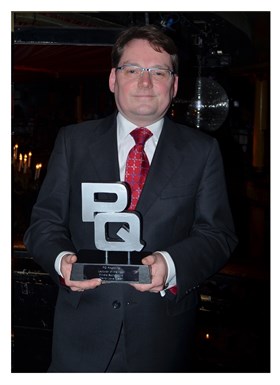 London School of Business and Finance won two PQ Magazine Awards at this year's ceremony, which was held on 10th February in London. Both LSBF faculty and students beat the competition and won awards in the Accountancy Lecturer of the Year (Private Sector) and Newly Qualified (NQ) Accountant of the Year categories.
This is the sixth consecutive year that LSBF has won prizes at the PQ Awards, which recognise the best institutions, teachers, and students in the accountancy education field. At this year's event, LSBF received some of the most prestigious prizes of the evening.
The Accountancy Lecturer of the Year was awarded to David Laws, who has been an ACCA lecturer for LSBF since 2007. He has nearly two decades of experience in teaching, and has written articles for CIMA's student magazine.
NQ of the Year went to Kyle Tyrell, who passed all of his exams first time and became fully qualified in 2013. Since then, he has been promoted to Project Manager - Global SME Projects at AXA Insurance. He said: "I genuinely didn't expect to win, and so when they called my name I must say I was in a little bit of shock. I owe an awful lot to LSBF and my amazing lecturers, who ensured I got through all of my exams as quickly and efficiently as possible. All the hard work and the sleepless nights spent revising for the ACCA exams have really paid off."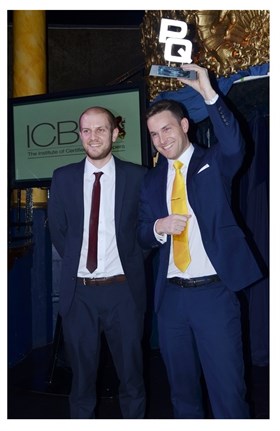 Rob Sowerby, Director of Professional Training Programmes, said: "I am delighted that we have won at the PQ awards yet again. For David to be named lecturer of the year is no surprise; he is one of three tutors at LSBF who have been so rewarded. To receive the NQ of the Year award was fantastic and displays our ongoing commitment to teaching excellence."
During the ceremony, LSBF accountancy faculty took the opportunity to congratulate former LSBF ACCA student Esther Alum, who won the Distance Learning Student of the Year award.
LSBF have previously won several PQ awards in previous years, including Accountancy College of the Year and Accountancy Personality of Year, as well as many awards for our PQ and NQ students.
Being a first-class professional training provider, all of LSBF's UK campuses have Gold Approved Learning Partner status by the ACCA, which is granted only to high-quality tuition providers. LSBF has also been awarded the Accountancy of the Year award twice in previous editions of the event.
The school is constantly developing new ways to support students outside the classroom to provide them with the best ACCA preparation and experience.
To find out more, visit LSBF's ACCA page.
---
View other sections in Press & Media