LSBF Partners with Georgian Government to Expand International Scholarship Programme
London 9th October 2013 - The London School of Business and Finance today announced the expansion of its international scholarship programme after signing an agreement with the Ministry of Education and Science of Georgia. The programme aims to provide financial support to Georgian students looking to study postgraduate degrees at LSBF's UK campuses.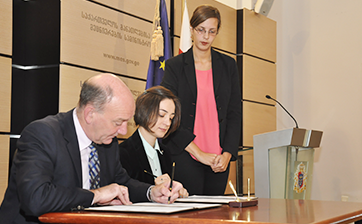 Signed by Keti Natriashvili, Georgia's First Deputy Ministry, and Dr Steve Priddy, Head of Research at LSBF, the agreement will benefit students enrolled on postgraduate programmes accredited by Grenoble Graduate School of Business, Bradford University and University of Lincoln, who will receive a decreased tuition fee of up to 50%.
The agreement with the Georgian government builds upon the large portfolio of international scholarship programmes already offered by LSBF, including the Emerging Markets Scholarship, which is open to international applicants that are dedicated to contributing to their country's economic development, the Principal's Scholarship for Entrepreneurship and the LSBF Women in Business Scholarship.
The school is dedicated to ensuring more of the best and brightest individuals from around the world can benefit from a first-class education; since 2011 it has distributed over £4 million in scholarships and bursaries.
"What is exciting for me is how LSBF can help build institutional capacity by providing high quality education in business and finance. Georgia has a youthful, intelligent population and with youth comes the possibility to transform for the better, and with greater speed. It was an honour and a privilege to sign this on behalf of LSBF and I look forward to building a close relationship between the UK and Georgia via international business education", said Dr Steve Priddy.
The programme is being funded by both parties equally. Students who wish to apply must be Georgian citizens under the age of 40, with a Bachelor's degree, and they must have received a provisional offer from one of the participating universities. Applications must be made online at the Ministry of Education and Science's website no later than 31st May 2014. Once all the necessary documents have been provided, the candidates will be interviewed by a special commission and informed about the fund allocation. Applications open in January 2014.
You can watch the video of the signing online here and find out more about the Ministry of Education and Science of Georgia here.
---
View other sections in Press & Media