PR Guru Shares Insights on Marketing and Communications at Careers Workshop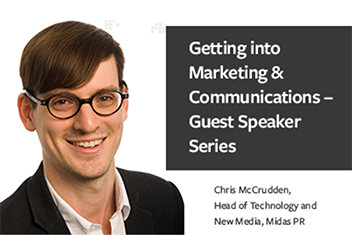 PR is the art of making people fall in love with your product. That's the motto of Chris McCrudden, Head of Technology and New Media at Midas PR, who was a guest speaker in one of this LSBF's career development workshop series, hosted at the school's London campus on Friday 25 October.
With more than ten years' experience of working with a diverse range of brands and organisations, Chris shared industry-relevant insights with an audience of business and marketing students. Talking about careers in the Public Relations sector, Chris provided a broad overview of the industry and summarised the opportunities it presents to those embarking on a career in marketing and communications.
Having worked on everything from motorcycle safety campaigns to enterprise software, he was able to give students a first-hand perspective of what it's like to work for brands such as Virgin Media, Toshiba, Sony, The Economist, Deloitte and Tesco. His work for The Economist won a Marketing Week Engage Award in 2011 and in 2012 he was shortlisted as one of the most influential people in Advertising, Marketing and PR in the Hospital Club's Hot 100.
"Chris' presentation on getting into the PR industry was truly unique and engaging. The content was insightful, rich and just bursting with new ideas. His experience in the PR industry is immense and he was keen to share some of the remarkable stories that he has been part of during his career journey", said Maria Djaleva, an LSBF MBA Graduate who aims to develop her career in the communications industry. "It was an extremely inspirational event; I was buzzing afterwards for quite some time."
Excellence in Career Development
Committed to professional development across several industries, LSBF's Career and Employability Services department provides students with a combination of events, masterclasses and workshops that reflect the business world. It provides inspiration, insight and different points of view on subjects relevant to students' careers.
Through the workshops, students have the chance to get work-ready whilst honing the skills needed to stand out in the marketplace. A number of other events are scheduled for the upcoming months, helping students to link what they learn in the classroom and what is expected from them out in the real world.
To learn more about LSBF's Careers and Employability Services and to keep up-to-date with upcoming workshops and speaker events, visit: LSBF Careers
---
View other sections in Press & Media