LSBF Birmingham Campus Hosts Workshop with Top Business Player
As a school that is dedicated to providing students with the expert advice needed to excel in their chosen industries, last month FBT hosted an open conference with Alistair Darby, CEO of Mitchells & Butlers. This FTSE 250 Company represents some of the best known brands in the food and beverage industry, such as Harvester and Toby Carvery. Alistair Darby is the man at the top who controls the strategy in over 1600 of its bars and restaurants, employing over 40,000 members of staff around the UK.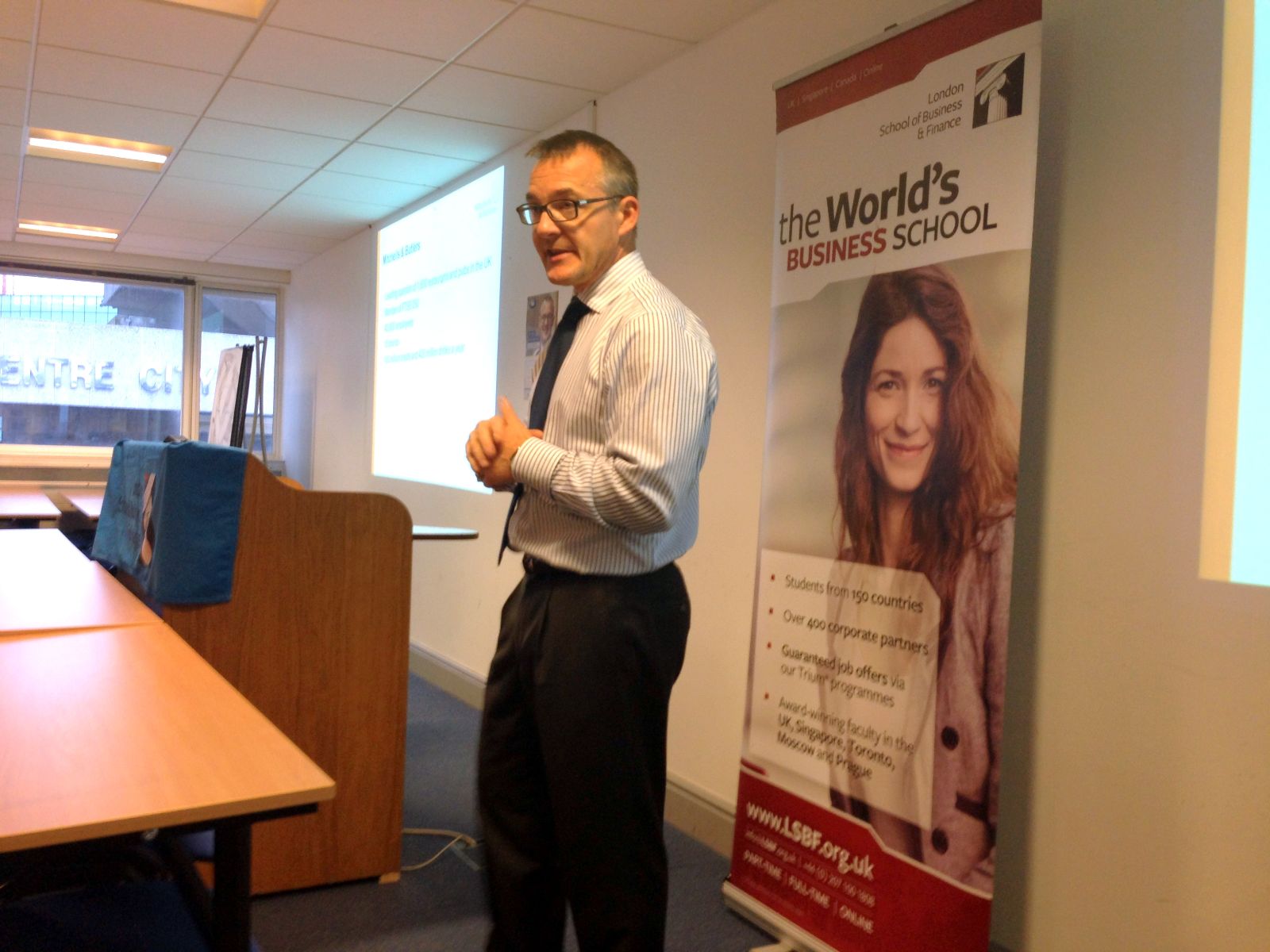 Keynote speaker Alistair Darby delivered presentation to help enhance students' management skills.
The conference presentation was titled &365 Days in the Hot Seat' and was designed to increase students' knowledge of the challenges and strategies involved in effective management. There was also an opportunity to ask questions at the end of the conference.
During the presentation Mr Darby discussed how to develop strategies and noted that "people make strategy very complicated. The best strategies are those that are easy to understand, as it's more likely that the people who work in the company can do something with it."
Mr Darby later went on to discuss the importance of shareholder and stakeholder engagement and how to keep everyone happy in such a large company. "We are a business that is owned by our shareholders. We have 400 million shares in circulation, so people own a part of the company. We have a job to make sure that they're happy with the way we are running the business and so we have to make sure we engage with them regularly", stated Mr Darby.
Speaking after the workshop concluded, Alex Carroll, Careers and Student Welfare Manager at FBT, commented: "This workshop was a fantastic opportunity for our students to gain an insight into what professional life is like at the top of a successful and large company. It also gave students the unique opportunity to ask questions to a successful businessman and receive feedback, which they can then reference in their assignments and use for their own career progression."
Students at FBT who want to discuss their career options further can book a one to one careers session with the Career Services team by emailing birminghamcareers@fbt-global.com
---
View other sections in Press & Media