Lord Mayor of London presents LSBF with Queen's Award for Enterprise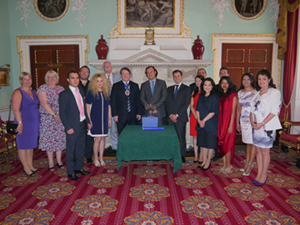 LSBF has been officially presented with its Queen's Award 2013 for Enterprise by the Lord Mayor of London, Alderman Roger Gifford. The awarding ceremony, hosted last week at Mansion House, was attended by members of LSBF faculty, senior management and the Student Association.
The ceremony followed the official announcement of this year's Queen's Awards winners, which took place in April. As the UK's highest and most prestigious business accolade, the Awards are conferred by HM Queen Elizabeth II, on the advice of the Prime Minister, to organisations with outstanding performance in international trade, innovation and sustainable development.
With presence worldwide and exponential growth, LSBF is one of the very few private higher education institutions to have won the award.
Commenting on the accolade, Professor Maurits van Rooijen, Rector & CEO of LSBF, said: "We are extremely proud to be presented with such a prestigious honour as the Queen's Award. LSBF not only teaches students to run successful businesses, but the school itself operates as a successful international business."
To mark the recent triumph, LSBF has launched a new scholarship programme that will benefit students worldwide. Under the programme, LSBF will be awarding 50 scholarships of up to £6,000 each to students looking to study selected LSBF full-time and part-time courses.
Asmat Ullah, MBA student and President of the Student Association, said: "It was an absolute honour to attend Queen's Awards Ceremony as a representative of student body to visit the iconic Mansion House and meet the Lord Mayor of London. Our student body and everyone associated with LSBF can be very proud of this fantastic achievement and I hope that it will be a start of even better LSBF for students."
Concluding, Prof van Rooijen said: "At LSBF, we believe that higher education should take the front seat in the globalisation process and lead a positive and constructive form of international collaboration. Winning the award gives us the confidence we need to continue to improve both our corporate and academic operations worldwide".
---
View other sections in Press & Media