LSBF Nominated for Accountancy College of the Year in the PQ Awards 2013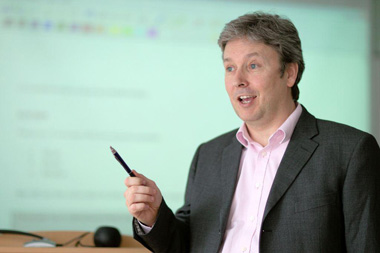 Rob Sowerby, Director of Professional Programmes at LSBF, was shortlisted for the Accountancy Personality of the Year in 2013
For another consecutive year, LSBF's leadership in financial education has been recognised and the school has been nominated for the Accountancy College of the Year prize at the PQ Awards 2013. In total, LSBF faculty and students received 12 nominations in eight different categories of the prize, making LSBF one of the most distinguished education institutions in the accountancy market.
Organised annually by the PQ Magazine, the PQ Awards recognise the best institutions, teachers, materials, students and learning platforms in the market. The ceremony will be held in February2013 in London.
Reflecting the LSBF's global development as well as its achievements in 2012, the PQ Magazine shortlisted LSBF as finalist in the following categories:
Accountancy College of the Year: LSBF London and LSBF Manchester;
Lecturer of the Year: Lisa Kiddell, Paul Merison and Hafeez Qazi;
Study Resource of the Year: LSBF InterActive;
Innovation in Accountancy: LSBF Social Media and LSBF.org.uk;
Accountancy Personality of the Year: Rob Sowerby;
Newly Qualified Professional of the Year: Ode-Inchakpa Inalegwu and Saad Mir;
Distance Learning Student of the Year: Fahima Chodhury;
Part-Qualified Professional of the Year: Rafael Laky
Rob Sowerby, Director of LSBF's Professional Training Programmes, said: "Being nominated for the PQ Awards is not only a reason to be proud of, but also an endorsement of our dedication and hard work to deliver the best tuition and support to our students. Our excellence in accountancy teaching has seen us win several awards previously, and we are confident that our structure, material and tutors have the potential to win again this year."
"Recent results of our latest satisfaction survey show that the vast majority of our ACCA students from LSBF's London campus rate their tutors as excellent. This reflects the degree of satisfaction that our students have with our courses and it reinforces the fact that our commitment to academic excellence and student support is the way forward", concluded Mr Sowerby.
Third Generation of Online ACCA
LSBF has recently announced the launch of the third generation of online ACCA programmes. The courses were reformulated to reflect the latest trends and meet the feedback provided by over 12,000 students worldwide.
Aiming to increase flexibility, student support, interaction and value for money, both the ACCA Tuition and the ACCA Revision packages have been improved with an increased number of live sessions, personalised tutor support, expert guidance and online coaching. Each package is complemented with a broad collection of pre-recorded HD video lectures, study and self-assessment materials.
---
View other sections in Press & Media