Students Excel with Live Performances at LSBF's Got Talent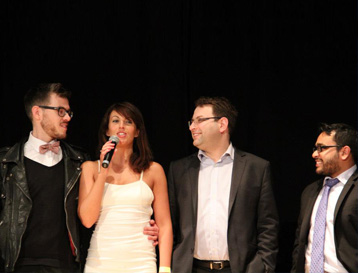 The judges were on hand to give advice to the performers.
Proving that they have just as much talent outside the classroom, LSBF students - including a comedian, a beatboxer, singers, dancers and many talented musicians - assembled at London's Camden Centre on Thursday, 18th April to take part in the final of LSBF's Got Talent. The talent competition, which was organised by LSBF's Student Engagement Team for the second year running, saw contestants deliver spectacular performances to over 350 guests. Inspired by hit British TV show Britain's Got Talent, the event was a great opportunity for students to showcase their artistic talents to a live audience and compete for the winning prize.
Since the event was first announced, students lined up in their dozens to take part in the auditions held at LSBF's New Court campus in London. Fifteen finalists were then chosen by the judges to perform at the final before audience members chose Ibragim Kouky as their winner. Studying an LLM in International Business Law, Ibragim enchanted the audience with his flawless violin playing.
Members of LSBF faculty and staff also participated both on the stage and on the judging panel. Anthony Grimes, LSBF Student Engagement Manager and event host, said: "It's a great opportunity for LSBF students and staff to be able to showcase their talents beyond the classroom or office. Our students work tremendously hard throughout the academic year, so it's extremely important that they have enough opportunities to have their downtown where they can recharge and enjoy their student lives to the fullest."
Commenting on the academic benefits of the talent show, Nadim Choudhury, Head of Career Services and event judge added: "While it's true that this is a great way for students to relax and have fun, it's also great preparation for their professional careers. Public speaking is a skill that every student will have to master at some point, so performing to a crowd of over 350 people is a great way for them to practise and build their confidence."
LSBF's Got Talent is just one of the many events organised by the Student Association and Student Engagement team throughout the year. To keep up to date with future events, visit the team's Facebook page.
---
View other sections in Press & Media