LSBF in Singapore awarded with ACCA Gold Approved Learning Partner Status
As a global institution committed to delivering first-class tuition worldwide, the London School of Business and Finance is proud to announce that the Association of Chartered Certified Accountants (ACCA) has awarded LSBF in Singapore with the Gold Approved Learning Partner status for its 2013 tuition.
ACCA Gold Status is only awarded to those institutions able to meet a highly challenging set of performance standards. LSBF in Singapore now sits alongside other LSBF's Gold Status campuses in London, Manchester and Birmingham.
Experienced ACCA Tutors
ACCA Gold Status is a formal recognition of LSBF's quality and success in supporting students throughout their ACCA qualification. LSBF in Singapore has some of the most experienced ACCA tutors in the country, who provide students with invaluable knowledge and insight. This has been acquired through years spent at the highest levels of business and academia.
As Elisabetta Ceragioli, Regional Managing Director, S.E.A. at LSBF in Singapore says: "We are very proud to be recognised by the ACCA for the quality of tuition given to our students. We are determined to continue meeting the highest standards possible".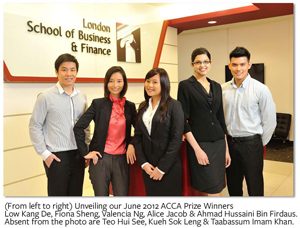 15 ACCA Prize Winner Students
LSBF in Singapore strives to ensure students will get the best support to achieve the greatest level of success. Since the December 2011 exam sitting, the school has helped a total of 15 students to become ACCA Prize Winners, an award only given to the best performing ACCA candidates.
LSBF ACCA Prize winner Cassandra Lo says: "The more-than-qualified and dedicated tutor team is what I treasure most about studying at LSBF. The committed, passionate and student-oriented tutors have made my studying experience most memorable. The high standard of teaching and the superior quality of ACCA materials are second to none". Cassandra Lo won first placing in Singapore and third Worldwide for the P4 paper - Advanced Financial Management in ACCA December 2011 sitting.
---
View other sections in Press & Media