LSBF and GGSB Programmes: taking your career further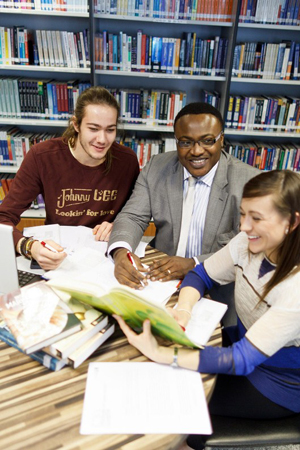 By working with leading academic institutions, LSBF is uniquely placed to deliver a truly global experience, first-class degrees and hands-on learning in the heart of London. One of LSBF's most prominent partners is Grenoble Graduate School of Business (GGSB), a triple accredited institution which is top-ranked by publications such as the Financial Times and Le Figaro. Through the partnership, LSBF delivers programmes such as Bachelors in Business Administration (BIB), Masters in International Business and the GGSB MBA.
BIB: the best way to start a career
The BIB is a comprehensive undergraduate degree that blends theoretical and practical learning and includes specialist pathways. The degree is jointly delivered by GGSB and LSBF, with visiting professors from top universities and leading business professionals.
The programme also offers students the opportunity to devote up to 1 year to company-based learning, either in the form of a work placement or a full-time paid internship. With LSBF's Careers team's expertise, students have access to professional development workshops, networking events and job search support.
Aiming to have her business, BIB student Carmen Popa said about the programme: "The course opened my mind and the teachers clearly have wide international experience. The programme gave me the skills I need to run my own business. They taught me how to open it, to maintain it and how to take it further."
With students coming from over 150 countries, LSBF is a global institution by nature. Students in the GGSB-awarded programmes can also have the experience of studying at the university's campus in Grenoble, France.
Jose Adam Perez, who aims to work with international markets, commented: "With the BIB I was able to understand how business work in an international basis and I got the real hands-on education which I was looking for. London is the financial capital of Europe. So it's a really strategic place to be if you want a career in International Business."
Longstanding partnership
LSBF has a longstanding partnership with GGSB, having started in 2006 with the introduction of the MBA and MIB programmes. Some of the alumni who graduated from the GGSB courses delivered at LSBF now work for companies such as Google, HSBC, Nike and Citibank.
GGSB is a triple accredited institution, an honour shared by less than 1% of world's elite business schools which are accredited by the Association of MBAs (AMBA), the European Quality Improvement System (EQUIS) and the Association to Advance Collegiate School of Business (AACSB) accreditations.
Clearing Hotline
There are still places available for the September intake of GGSB'S BIB. To help students, LSBF has created a dedicated hotline +44 (0) 203 005 6202 for all clearing enquiries. The number will be available throughout the whole Clearing period with advisers ready to support students with their choices and offer advice on their options.
---
View other sections in Press & Media